Wildfires break out in Chernobyl amid a non-functioning radiation-monitoring system
Seven wildfires have broken out in the exclusion zone surrounding the Chernobyl Nuclear Power Plant, the site of the world's worst nuclear disaster, according to a statement by Ukraine's Parliament. The fires, which were observed via satellite, exceed Ukraine's emergency classification criteria tenfold. Ukrainian officials stated that the fires were caused by "the armed aggression of the Russian Federation, namely the shelling or arson," though this has not been independently verified. Wildfires risk mobilizing and dispersing radioactive contaminants left over from the 1986 nuclear accident at Chernobyl.
Ukrainian firefighters have been unable to access the area since Russia took control in the first days of the war. Energoatom, Ukraine's state nuclear company, also reported this week that Chernobyl's radiation monitoring system is no longer working. Without the data that system would provide, radiation levels in the region may rise unchecked. Though the Chernobyl nuclear power plant is no longer operational, it requires constant management.
Ukraine's State Agency on Exclusion Zone Management also reported this week that the Russian military destroyed a six-million-euro laboratory that, in part, worked to improve radioactive waste management, according to the Associated Press. The lab contained "highly active samples and samples of radionuclides" that could have been released, according to the agency.
Seasonal wildfires are common during spring and summer in the region surrounding Chernobyl. An April 2020 wildfire required more than 100 fire trucks with accompanying firefighters to extinguish; still, it burned more than 8,600 acres. Following that fire, the Chernobyl management team adopted early intervention efforts, such as moving firefighting equipment to the region in advance of fires, that helped mitigate risks. The team also offered fire-prevention education to workers in and residents living near the region. Those efforts kept the 2021 fire season under control, Kateryna Pavlova, Chernobyl's Head of the Department for International Cooperation and Public Relations, told the Bulletin. "Last year, we prepared the exclusion zone to [prevent] a big fire, but this year it's the opposite," Pavlova said. "We are not prepared." She added that the wildfires of concern started in March this year, whereas in years past, such fires, including the big one in 2020, started in April.
RELATED:
"Get out now:" US closes Kyiv embassy and warns of imminent invasion amid Russia-Ukraine crisis
The current wildfire crisis follows a series of unfortunate events at the infamous Chernobyl site in the past month. After Russian forces took control of Chernobyl, they held hundreds of plant workers hostage in what the International Atomic Energy Agency call a "dire situation." The staff worked at gunpoint, without replacement and despite exhaustion, to maintain safety at the nuclear facility. This week, some of the staff were freed, with priority given to those who were sick, after more than three weeks of captivity. Many of those who have been released have been unable to return to their families as the Russian military has not provided safe corridors, Pavlova reported.
Earlier this month, the plant also was cut off from the power grid, which raised concerns about monitoring the level and temperature of water in spent nuclear fuel cooling pools. The plant operated on emergency diesel generators during the power outage, and power has since been restored.
Russian forces also shelled and took control of Ukraine's Zaporizhzhya Nuclear Power Plant—the largest in Europe—earlier this month. Though that incident resulted in no change in radiation levels, nuclear experts have expressed concern that an intentional or accidental wartime strike on a power plant's reactor or spent fuel cooling pools could exact a significant human and environmental toll.
---
Listen to Representative Rashida Tlaib talk about why it is crucial to support the ban treaty and ICAN pledge to eliminate nuclear weapons.
Representative Rashida Tlaib talks about the need to eliminate nuclear weapons. - NuclearBan.US
---
Urge Congress to pass the Nuclear Weapons Abolition and Economic and Energy Conversion Act
The Nuclear Weapons Abolition and Economic and Energy Conversion Act in the U.S. House of Representatives would "provide for nuclear weapons abolition and economic conversion ... while ensuring environmental restoration and clean-energy conversion." 
Let your representative know you want them to support it:
Nuclear Weapons Abolition and Economic and Energy Conversion Act
https://act.rootsaction.org/p/dia/action3/common/public/?action_KEY=11837



Coretta Scott King (R) with Women Strike for Peace founder Dagmar Wilson (L) in a march on the United Nations Plaza, New York City, Nov. 1, 1963. (Image: Bettmann/CORBIS)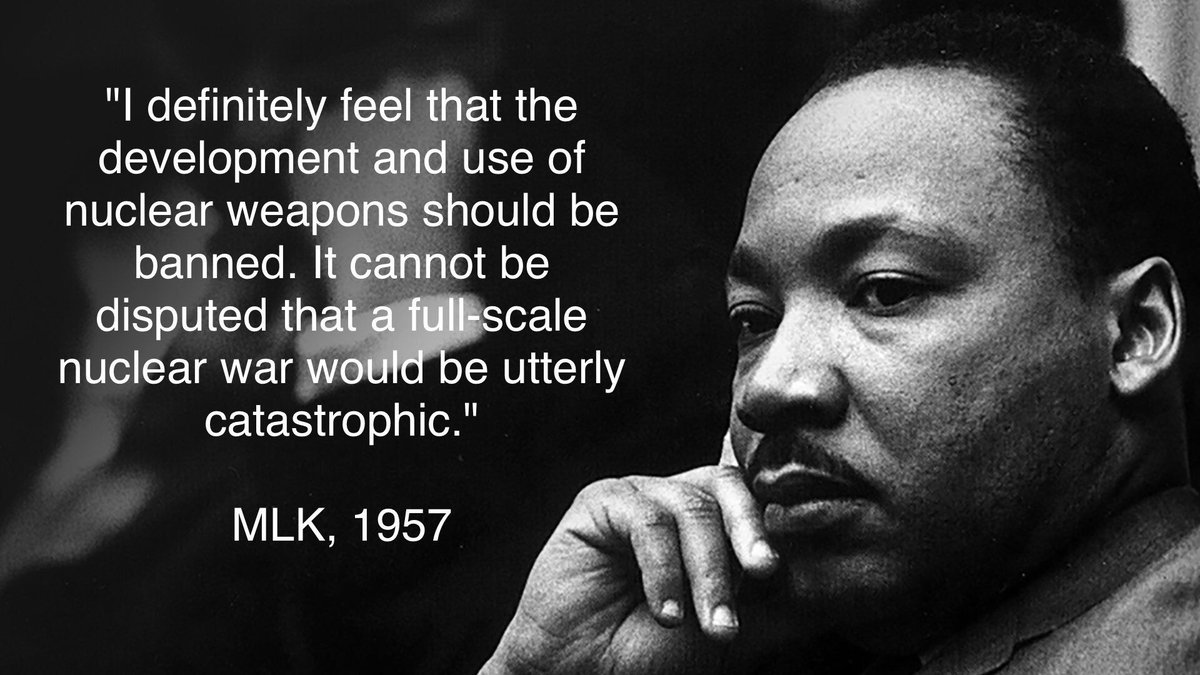 https://outrider.org/nuclear-weapons/articles/nuclear-weapons-and-legacy-dr-king/
We join anti-nuclear activists across the country and throughout the world on January 22 to celebrate the treaty's first anniversary of the Entry Into Force, https://www.facebook.com/groups/743982149793909/
Watch this video of "The Nuclear Blues"
The International Campaign to Abolish Nuclear Weapons (ICANW)  
Sponsored by Peace Action WI, Wisconsin Network for Peace and Justice, WI Physicians for Social Responsibility, Safe Skies Clean Water WI, WILPF Milwaukee, Interfaith Peace Working Group
---
   Watch the 2022 Doomsday Clock announcement
In 2021 it was 100 seconds to midnight
W. E. B. Du Bois to Coretta Scott King: The Untold History of the Movement to Ban the Bomb
July 30, 2015
By Vincent Intondi
When the Rev. Martin Luther King Jr. announced his strong opposition to the war in Vietnam, the media attacked him for straying outside of his civil rights mandate. In so many words, powerful interests told him: "Mind your own business." In fact, African American leaders have long been concerned with broad issues of peace and justice—and have especially opposed nuclear weapons. Unfortunately, this activism is left out of mainstream corporate-produced history textbooks.
On June 6, 1964, three Japanese writers and a group of hibakusha (atomic bomb survivors) arrived in Harlem as part of the Hiroshima/Nagasaki World Peace Study Mission. Their mission: to speak out against nuclear proliferation.
Yuri Kochiyama, a Japanese American activist, organized a reception for the hibakusha at her home in the Harlem Manhattanville Housing Projects, with her friend Malcolm X. Malcolm said, "You have been scarred by the atom bomb. You just saw that we have also been scarred. The bomb that hit us was racism." He went on to discuss his years in prison, education, and Asian history. Turning to Vietnam, Malcolm said, "If America sends troops to Vietnam, you progressives should protest." He argued that "the struggle of Vietnam is the struggle of the whole Third World: the struggle against colonialism, neocolonialism, and imperialism." Malcolm X, like so many before him, consistently connected colonialism, peace, and the Black freedom struggle. Yet, students have rarely heard this story.
Focusing on African American history, too often textbooks reduce the Black freedom movement to the Montgomery Bus Boycott and the March on Washington. Rosa Parks and Dr. King are put in their neat categorical boxes and students are never taught the Black freedom struggle's international dimensions, viewing slavery, Jim Crow, and the Civil Rights Movement as purely domestic phenomena unrelated to foreign affairs. However, Malcolm X joined a long list of African Americans who, from 1945 onward, actively supported nuclear disarmament. W. E. B. Du Bois, Bayard Rustin, Coretta Scott King, Dr. Martin Luther King Jr., and the Black Panther Party were just a few of the many African Americans who combined civil rights with peace, and thus broadened the Black freedom movement and helped define it in terms of global human rights.
Writing in the Chicago Defender, poet Langston Hughes was among the first to publicly criticize using the atomic bomb in Hiroshima and the role race played in the decision. Years later, Hughes again used the Black press to raise awareness about the nuclear issue. He implored the U.S. not to use nuclear weapons in Korea, making clear that things would be different if Americans viewed people of color as human beings rather than an "Other." In his view, racism, nuclear weapons, and colonialism were indeed inextricably linked.
If students learn about Du Bois at all, it is usually that he helped found the National Association for the Advancement of Colored People (NAACP) or that he received a PhD from Harvard. However, a few weeks after the atomic bombings of Hiroshima and Nagasaki, Du Bois likened President Truman to Adolph Hitler, calling him "one of the greatest killers of our day." He had traveled to Japan and consistently criticized the use of nuclear weapons. In the 1950s, fearing another Hiroshima in Korea, Du Bois led the effort in the Black community to eliminate nuclear weapons with the "Ban the Bomb" petition. Many students go through their entire academic careers and learn nothing of Du Bois' work in the international arena.
If students ever hear the name Bayard Rustin, it is usually related to his work with the March on Washington. He has been tragically marginalized in U.S. history textbooks, in large part because of his homosexuality. However, Rustin's body of work in civil rights and peace activism dates back to the 1930s. In 1959, during the Civil Rights Movement, Rustin not only fought institutional racism in the United States, but also traveled to Ghana to try to prevent France from testing its first nuclear weapon in Africa.
These days, some textbooks acknowledge Dr. King's critique of the Vietnam War. However, King's actions against nuclear weapons began a full decade earlier in the late 1950s. From 1957 until his death, through speeches, sermons, interviews, and marches, King consistently protested the use of nuclear weapons and war. King called for an end to nuclear testing asking, "What will be the ultimate value of having established social justice in a context where all people, Negro and White, are merely free to face destruction by Strontium-90 or atomic war?" Following the Cuban Missile Crisis in October 1962, King called on the government to take some of the billions of dollars spent on nuclear weapons and use those funds to increase teachers' salaries and build much needed schools in impoverished communities. Two years later, receiving the Nobel Peace Prize, King argued the spiritual and moral lag in our society was due to three problems: racial injustice, poverty, and war. He warned that in the nuclear age, society must eliminate racism or risk annihilation.
Dr. King's wife largely inspired his antinuclear stance. Coretta Scott King began her activism as a student at Antioch College. Throughout the 1950s and 1960s, King worked with various peace organizations, and along with a group of female activists, began pressuring President Kennedy for a nuclear test ban. In 1962, Coretta King served as a delegate for Women Strike for Peace at a disarmament conference in Geneva that was part of a worldwide effort to push for a nuclear test ban treaty between the United States and the Soviet Union. Upon her return, King spoke at AME church in Chicago, saying: "We are on the brink of destroying ourselves through nuclear warfare . . . . The Civil Rights Movement and the Peace Movement must work together ultimately because peace and civil rights are part of the same problem." Of course, Coretta was not alone. Zora Neale Hurston, Marian Anderson, Lorraine Hansberry were just a few of the black women who spoke out against the use of nuclear weapons.
Each new school year students will hopefully open their textbooks to study the nuclear arms race and the Black Freedom Movement. However, most will not learn how these issues are connected. They will not learn of all those in the Civil Rights Movement who simultaneously fought for peace. But this must change, and soon. The scarring of war and poverty and racism that Malcolm X spoke of continues. It is time that students learn about the long history of activism that has challenged these deadly triplets.
---
Nuclear Power is Not a Climate Solution: The devastating impacts of Pacific nuclear testing, the Fukushima disaster, and radioactive waste from U.S. nuclear reactors.
Here is the link to the video that was live streamed for those who were unable to attend or want to view it again or share it with others: https://www.youtube.com/watch?v=lqQwRl5nqbQ&t=232s
The Affected Communities and Allies Working Group of the Nuclear Ban Treaty Collaborative will host a discussion on the devastating impacts of nuclear testing in the Pacific, the Fukushima nuclear disaster, and the dangers of parading nuclear energy as a solution to the climate crisis.
This free online webinar will explain why nuclear energy is not a climate solution and shed light on the underreported impacts of the ongoing nuclear crises in communities impacted by nuclear testing, nuclear energy, and radioactive waste. 
Sixty-eight years ago, on March 1, 1954, the Castle Bravo nuclear test (the largest atmospheric explosion in the Pacific) was conducted by the United States in the Marshall Islands. The total of 67 nuclear tests left the community with ongoing health effects, continued radiation exposure, decimated environments, and generational trauma. 
March 11 marks eleven years since the beginning of the ongoing nuclear disaster in Fukushima. The disaster forced some 160,000 to evacuate. Tens of thousands are still displaced. Thyroid cancer, one of the known adverse effects of radiation exposure, has been on the rise among children. In 2021, the Japanese government decided to dump 1.28 million metric tons of radioactive wastewater from the damaged nuclear power plant into the Pacific Ocean starting from 2023.