Peace and Justice Calendar 
STAND FOR PEACE Noon to 1 PM. Wear masks and social distance.
June 19: Lincoln Memorial/LaFayette Hill

 Focus on Cuba 
June 26: 76th/North
July 3: Oakland/North
July 10: 92nd/North
July 17: King/Locust
July 24: 43rd/Forest Home
July 31: Lincoln Memorial/LaFayette Hill
---
Stand for a Livable Climate, Fridays for the Future,  Noon to 1 PM
Chase & Wells Fargo Banks, Water St & Wisconsin Ave, Milwaukee, WI
Wells Fargo and Chase have over $60 Billion each in fossil fuel investments.
DIVEST FROM FOSSIL FUELS! STOP THE DIRTY OIL PIPELINES! Save our Environment and stop climate change!
Sponsored by 350MKE, endorsed by Peace Action WI
---
F-35s Out of Our Skies: Film Screening and Panel Discussion
June 17, 2021 at 7:00pm
 - 

8:30pm

 

(CDT)
At this event, we'll screen Jet Line: Voicemails from the Flight Path. This is a 12-minute film described as "a poetic portrait of a community plagued by war machines, documenting untenable conditions in a small city once voted one of the best places to live in America." At this event, we'll screen Jet Line: Voicemails from the Flight Path. This is a 12-minute film described as "a poetic portrait of a community plagued by war machines, documenting untenable conditions in a small city once voted one of the best places to live in America."
The F-35 jet is the most expensive program in the Pentagon's history, when all the operating costs for the planned fleet are calculated across the program's expected 50-year lifetime, the American people will spend an estimated $1.727 trillion.  It's only use is for death and destruction. The F-35 aircraft were used in the recent bombing of the defenseless people of Gaza. The F-35 threatens the lives of millions of people in the world, and more if armed with nuclear weapons.
Join CODEPINK, Safe Skies Clean Water, Peace Action Wisconsin, Interfaith Peace Working Group and more for an online event to discuss why we oppose F-35's in our communities. After the film screening, we'll hear from local community activists in Wisconsin and Vermont who oppose the F-35 program. Participants will hear about safety and environmental concerns AND how they can get involved in the campaign to oppose dangerous F-35's. 
RSVP here to receive the zoom link! 
Event Co-Sponsors:  Safe Skies Clean Water, Peace Action Wisconsin, Interfaith Peace Working Group, Dr. Marie Powell of the Madison Environmental Justice Organization, Veterans for Peace Milwaukee
 CONTACT: Carley Towne · [email protected]
********************************************
Peace​ A​ction WI​​​ & the Interfaith Peace Working Group Postcard Campaign of Resistance against the F-35s! 
Tell Senator Tammy Baldwin that you do not want these F-35 fighter jets in Wisconsin.  
For more information about the F-35s, please check out this website: www.safeskiescleanwaterwi.org
If you need postcards, please contact Pam Richard, Peace Action WI, 414-269-9525, [email protected] or
Jane H Kavaloski, and Jim Murphy, Interfaith Peace Working Group  [email protected]
Short Link:
https://forms.gle/4tDoEYFfnh6WuJdV9
QR Code:
 Hold phone camera over QR Code to connect with postcard order form.
---
Julian Assange's brother & father visit Milwaukee 10am June 19 to save Julian's life

Sunburst sculpture on E WI Av | https://goo.gl/maps/9WNVvmWWETZabScb6 
Come to meet Julian Assange's father and brother, John and Gabriel Shipton, on Saturday, June 19 and at the Sunburst sculpture from 10 a.m. to noon. #HomeRun4Julian
Julian Assange's father John Shipton and brother Gabriel are visiting the United States to conduct a month long, country wide speaking tour in their
ongoing battle to save Julian's life. Chat with them as they discuss Julian - son, brother, peace advocate and publisher currently held in Belmarsh prison as the U.S. appeals the "no extradition" verdict by the U.K. They will be in Milwaukee for June 19th during their USA 2021 "Home Run for Julian" tour.  
---

End the US Blockade of Cuba
Saturday, June 19, 12 Noon-1:15 PM
Special Focus Stand 
for

 Peace
Lincoln Memorial and Lafayette Hill
eated on nation
Join this Stand for Peace event by Peace Action of Wisconsin  to end the US economic blockade of Cuba. The UN will be voting on this issue on June 23, so come show your support for the people of Cuba, and for the US to join the world & our allies, to end this inhumane policy against the interests of both the people of the US and Cuba. the blockade is an act of genocide that constitutes a massive violation of human rights. The blockade is a cruel policy, which causes suffering, deprivation, and shortages to Cuban families. It has been deliberately tightened during the COVID-19 pandemic. . 
Milwaukee Car and Bike Caravan 
at 1 PM Sunday, June 20
---
Hunger as a Weapon – How Biden's Inaction is Aggravating Cuba's Food Crisis
Milwaukee Car and Bike Caravan 
at 1 PM Sunday, June 20
Rep. Gwen Moore to Speak

- 

on 

the 

eve of UN Vote

, 

with Biden's position in the balance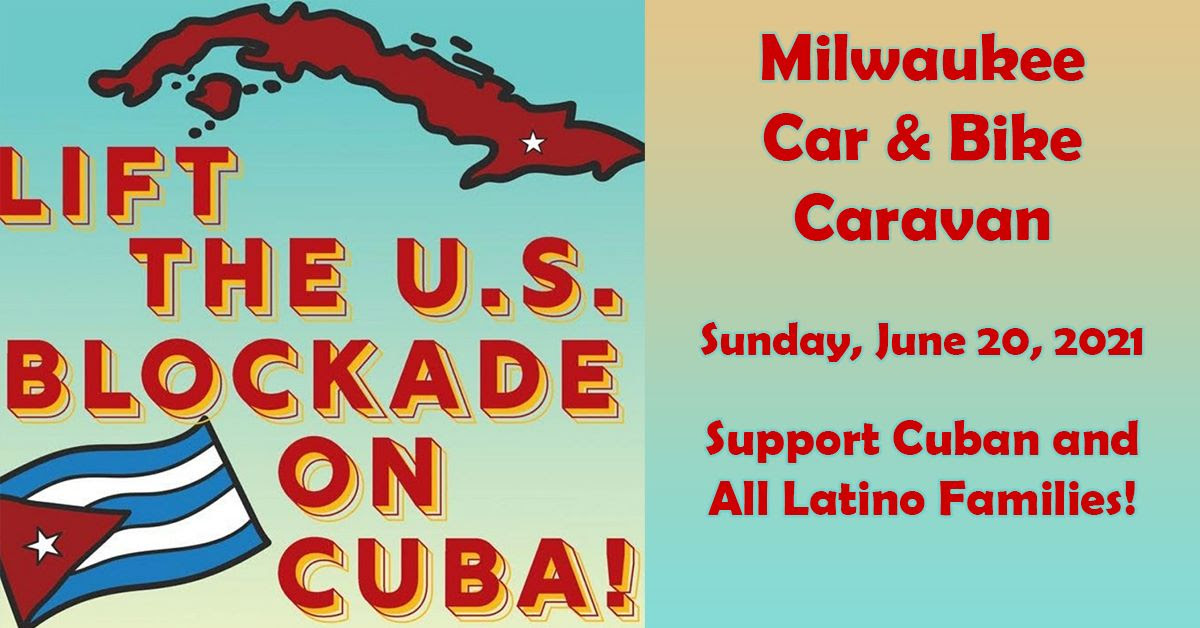 U.S. Rep. Gwen Moore will speak on the need to change US policy towards Cuba, this Sunday, June 20 at 1pm at the Mitchell Park Domes at a send off rally for a car and bike caravan calling on President Biden to reverse over 240 restrictions imposed by President Trump on the peoples of both Cuba and the U.S. related to Cuba.

This is part of a national and international caravan movement, started in Miami, which will highlight the United Nations General Assembly vote on June 23 calling for an end to the decades long U.S. financial and trade embargo against Cuba.  How President Biden will have the U.S. vote on this resolution is still unknown.
Click here for photos and two videos from the successful and spirited May 30 event, courtesy of Susan Ruggles. A summary of what we heard during the send-off rally can be found on our website, along with the solidarity greetings from Bashar H. M. Hamadna, a Palestinian medical student in Cuba.
---
rPoint Beach Nuclear Reactors Meeting Notice
June 22, 2021 9:00am CT
A Nuclear Regulatory Commission Atomic Safety and Licensing Board will conduct an oral argument regarding a petition to hold an adjudicatory hearing concerning NextEra Energy's application to renew the operating licenses of the Point Beach Nuclear Reactors for an additional 20 years.
The oral argument will address four proposed contentions from PSR Wisconsin as well as a motion to amend the group's proposed Contention 2. The three administrative judges on the Board will hear argument from representatives for PSR Wisconsin, NextEra, and the NRC staff.   *Public can listen in, but there will not be a comment period for the public.                More information >>
---

Demand Biden Administration Abolish 1033 Program / Exijamos a la Administración Biden la abolición del programa 1033
We call on all communities that received tanks, armored personnel carriers, machine guns, grenade launchers and all other weapons of war through this program to document and return those weapons to federal authorities.
--------------------------------------------------------
End police militarization fueled by the drug war
---
Preparations for Nuclear War with China over Taiwan – Then and Now
Wed June 23 @ 6:00 pm

 

-

 7

:30 pm

 C

DT
Daniel Ellsberg has done it again! 50 years after his courageous whistleblowing release of the Pentagon's secret Vietnam War history, The Pentagon Papers, he has again shaken the nation and the world with a new revelation. It has critically important implications for the new Cold War confrontation with China and the debate over the possibility over Congress or the  the Biden Administration adopting a No First Use nuclear policy.
For more than 60 years the government has kept secret its 1958 willingness to completely sacrifice Taiwan in order to save it. During that Taiwan crisis, the Eisenhower administration prepared and threatened to attack China with nuclear weapons. Ellsberg's revelation demonstrates that Eisenhower and Dulles were willing to accept a retaliatory Soviet nuclear attack on Taiwan following U.S. nuclear bombing of China.
As the U.S. and China ratchet up tensions over Taiwan, Ellsberg asserts that the Pentagon must again be debating the possibility of sacrificing Taiwan and its people to save them.
Join us for our webinar with this brilliant and courageous American hero!  Moderated by Joseph Gerson.  Register to attend.
Daniel Ellsberg served as consultant on nuclear planning and command and control for the Eisenhower, Kennedy and Johnson administrations.  Ellsberg is best known for precipitating a national political controversy in 1971 when he released the Pentagon Papers, a top-secret Pentagon study of the U.S. government decision-making in relation to the Vietnam War. Ellsberg was charged under the Espionage Act  along with other charges, carrying a total maximum sentence of 115 years. Because of governmental misconduct and illegal evidence-gathering his conviction was dismissed. He has since been a leading analyst and nonviolent activist. His books include: Secrets: A Memoir of Vietnam and the Pentagon Papers, and The Doomsday Machine: Confessions of a Nuclear War Planner.
Sponsored by Massachusetts Peace Action, the Campaign for Peace, Disarmament and Common Security, the Committee for a SANE U.S.-China Policy, Chicago Area Peace Action, Maryland Peace Action, and New Hampshire Peace Action
---


Since 2017, 

US

 citizens have been restricted from traveling 

to

 

North

 

Korea

. 

The

 

ban

 prevents Korean Americans from visiting their family members in 

North

 

Korea

, hinders humanitarian organizations from delivering critical assistance, and obstructs 

US

 citizens from engaging in people-

to

-people exchanges and peace-building efforts. This is yet another tragic cost of 

the

 unresolved 70-year-old Korean War.

Please 

join

 

us

 on 

June

 

23

 for an online discussion about 

the

 harms caused by 

the

 

US

 

travel

 

ban

 on 

North

 

Korea

 and how you can support 

the

 campaign 

to

 lift 

the

 

ban

 

to

 allow people 

to

 

travel

 freely.

Register here: https://zoom.

us

/webinar/register/WN_YmrWBPOCRYmO9IYFebfyfg

 



---
---
Our committee of concerned artists and activists have convened for the purpose of raising money for medical relief for Gaza as well as to call for an end of the Israeli occupation of Palestine. 
We intend to highlight an international chorus of voices who express their solidarity with the global community outraged over the ethnic cleansing of the Sheikh Jarrah and Silwan neighborhoods in Jerusalem, the ongoing psychological and physical trauma that has accompanied this occupation, and the lack of resources to adequately treat the people impacted by years of perpetual dehumanization. 
Moved by recent events that left 250 dead including 67 children, and also decimated housing and other important community centers, this organizing group has assembled an "A-list" of internationally renowned musicians and speakers for this two-hour online event. 
Artists and Speakers confirmed to date are: Marc Lamont Hill, Ronnie Malley, Wanees Zarour, Hani Dahshan, Clarissa Bitar, James Falzone, Micheal Miles, Carlo Basile, George Crotty, Omar Offendum, Michael Ibrahim, Kayem, The Brooklyn Nomads, Amir El Saffar, +Aziz, The Candadian Arabic Orchestra, Marty Mc Mormack, El Wadi Ensemble, Nedal Hamdan, Vijay Iyer and Maggie Brown. 
While all of our HotHouseGlobal events remain free without a paywall in order to support access to fine culture without economic barriers, a suggested donation of $25 or more for this event is suggested.
Organized by Ronnie Malley, Marguerite Horberg, Mona Khalidi, Camille Odeh, Leena Odeh and Tarek Kishawi. 



Award-Winning Palestinian Olive Oil, 750 ml for $20



Palestinian olive oil is available at the Peace Action WI office. Call 414-269-9525 for appointment.  The money will go to the Middle East Child
ren's Alliance. MECA
 began distribution of food parcels on the very first day of the Israeli attacks and we were the first to provide relief to displaced families at the schools and other make-shift shelters throughout Gaza. MECA partner Youth Vision Society has provided thousands of bottles of water to displaced families at 20 schools in the Gaza area. Due to Israeli attacks, many water networks have been damaged and there is only electricity for a few hours a day. Water purification units that treat Gaza's polluted water are not functioning and 97% of water in Gaza is unfit for human consumption.
Please call 414-269-8525 for an appointment to pick it up, or it can be delivered if you are homebound and in the Milwaukee area.
---
Check this compilation of Sue Ruggles' photos and videos of Peace Action WI 
https://www.peaceactionwi.org/photos 

Harvey Taylor- 
Friends, my video in partnership with Susan Ruggles, 'The Dove Of 
Peace':
You can access all my videos on my website:
http://harveytaylor.net/videos.html?fbclid=IwAR3UkStrIB1-EDyxyUvm3Nnc9RPWDPLjgs7-ZMMdX5ewzKs9_8tBmYbDUI0
---
Working together to create a peaceful, just and sustainable world founded in true democracy.

Racine Coalition for Peace and Justice
​