Peace and Justice Calendar 
---

STAND FOR PEACE Saturdays  Noon to 1 PM. Wear masks and social distance
October 2: Capitol/Humboldt- END US SANCTIONS! Sanctions are a form of war. We will have a rally afterward on the Impact and Consequences of US Sanctions
         9: Kinnicinic/Lincoln
       16: 51st/Silver Spring
       23: Lincoln Memorial/LaFayette Hill- Special Stand, "Why Should I Care About Julian Assange?"
       30: Brady/Farwell
November 6: King/North
        13: 76th/North
        20: St. Paul/Water
        27: Port Washington/Silver Spring
---
Physicians for the Prevention of Nuclear War
Eliminating the Existential Threat of Nuclear Weapons
Thursday, Sept 30 at 10 AM Central time
UN Under Secretary General Izumi Nakamitsu and the heads of the two NGO's with official UN status, Peter Maurer, President of the International Committee of the Red Cross and Shekhar Mehta, President of Rotary International discuss the UN Treaty on the Prohibition of Nuclear Weapons and other steps that we can take to eliminate the existential threat posed by nuclear weapons.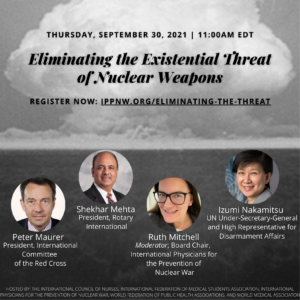 International Physicians for the Prevention of Nuclear War is proud to sponsor this important virtual event along with our partners in the International Council of Nurses, the International Federation of Medical Students' Association, the World Federation of Public Health Association, and the World Medical Association.
---
---
No War on China with Vijay Prashad
Thu September 30 @ 7:00 pm

 

-

 

8:00 pm

 

EDT
Vijay Prashad, historian, journalist, and commentator, will join us to talk about the US' new Cold War with China.
We'll talk about the impact of colonialism on China, Chinese revolution, Chinese socialism, the US campaign to isolate China, Xinjiang after Afghanistan, Taiwan, Hong Kong, the Eagle bill in Congress, Rep.  Jim McGovern's campaign to boycott the Beijing Olympics, and the US-Australian submarine deal.
View his interview on US-China relations with Amy Goodman on Democracy Now! and read his July article "China pulls itself out of poverty 100 years into its Revolution" in Peoples Dispatch.
---
350MKE Fridays for Future
Friday, Oct 1, 12:00 - 1:00 pm




Chase & Wells Fargo Banks


Wisconsin Ave. at Water St.
Wells Fargo Bank and Chase Bank both have over $60 billion in fossil fuels investments such as Enbridge's Dirty Tar Sands Oil  Line 3.
The Most Affected Peoples and Areas are experiencing the worst impacts of the climate crisis and are least able to adapt.
 The Native People of northern Minnesota (and elsewhere) are being directly affected by Enbridge Line 3 - read the 
Line 3 update
 article.
 Everyone in the Mississippi watershed and the Great Lakes basin is at high risk from a tar sands oil pipeline hemorrhaging (a.k.a. Enbridge Lines 3 & 5). 
And our planet (and its population) will feel the added effects of global warming/heating because of Line 3.
TREATY PEOPLE WALK to STOP LINE 3-Indigenous leaders and non-guests will walk in prayer 160 miles along the Line 3 pipeline route from Backus, MN to Superior, WI at the Gitchi-Gami (Lake Superior)- Arriving 9/30 in Superior, WI on the shores of Gitchi-Gami

KEEP SPACE FOR PEACE WEEK OCT 2-9, 2021
U.S. generals are planning for a space war they see as all but inevitable. 
Space week is an annual project of the Global Network Against Weapons & Nuclear Power in Space
The Next Domain of Warfare
The next domain of warfare includes the combination of outer space and dominance over the electromagnetic spectrum, otherwise known as electromagnetic warfare (EW).
---
Importance of Indigenous Peoples Day
October 10, 2021 | 11:00 am

 

-

 

12:00 pm
Anthony Gonzalez, Executive Director of AIM West, former Executive Director of the International Indian Treaty Council.
Tony will discuss his work with the International Indian Treaty Council which was instrumental in drawing up the UN Declaration on the Rights of Indigenous Peoples and ensuring its implementation. He will also talk about AIM-West's work to raise awareness on issues that concern or impact Indians of the Americas ranging from racism in sports and public schools, to protection of sacred sites and implementation of the UN "Declaration on the Rights of Indigenous Peoples."    https://www.aim-west.org/     Host: Daniel O'Keefe
Sign up for the Sunday Forum on Zoom & YouTube Live HERE.
---
Tuesday, October 12, 7 PM (on zoom):
Report from Cuba and benefit for Pastors for Peace's renewed caravans to Cuba, featuring Gail Walker just returned from two weeks in Cuba and US medical graduate. ww.wicuba.org
---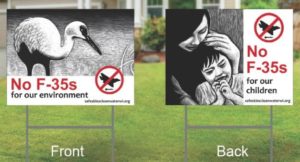 Safe Skies Clean Water and Peace Action WI
Thursday, Oct 14 at 7 PM on Zoom
Update on the Stop the F-35 in Wisconsin Campaign
Time is running out to oppose the stationing of eighteen F-35 Fighter Jets to Madison's Truax Field by 2023. The decision to allow the jets in Wisconsin has been done with no regard for the health or safety of our residents. Say no to F35s, save our children's lives.
The F-35 is a huge emitter of fossil fuel emissions. Additional F-35 emissions: 1.63 tons of Volatile Organic Compounds, 161.82 tons of Carbon Monoxide, 129.50 tons of Nitrous Oxide, 13.26 tons of Sulfur Dioxide and 48,725 tons of carbon dioxide.
The F-35s are expected to be four times louder than the current F-16s. The dangerous level of noise can have a detrimental effect many people including those with PTSD, autism, mental illness, and other neurological and sensory vulnerabilities. Negative impacts of noise on children include cognitive impairment, reading, memory and post-traumatic stress.
There will be racial, social & economic injustice disproportionate impact on minorities, children & lower income communities on Madison's North and East Side, including need for relocation. According to the Wisconsin State Journal, more than 1000 homes would become "incompatible for residential use.
Wisconsin taxpayers paid $201.33 million in 2017 towards the project but the Pentagon says the new F-35 jets would bring just 64 jobs and $2 million/yr.
All F-35s will eventually be capable of carrying two B61-12 variable capacity nuclear warheads – up to four times more powerful than the bombs that destroyed Hiroshima and Nagasaki. Truax will not initially have nuclear capable jets, but if the jets were given a nuclear mission, the military is not required to disclose this to the public.
PEACE ACTION OF WI ZOOM ONE CLICK JOIN
one click join  https://us02web.zoom.us/j/7165675210?pwd=WjJUcTE3c0gwd1NhQndab3dFQ3hRQT09
zoom id is 716 567 5210      password: 178153
plain old phone: 1-312-626-6799     zoom id: 716 567 5210    password: 1
-----------------------------------------------
Sunday, October 17th - 12:30 PM - 4:30 PM
No F-35 Caravan and Creative Celebration 
(In partnership with many other Wisconsin justice groups.) Mark your calendar and show up! Decorate your car or bike and join the "No F-35 Caravan" at the WI State Capitol between 1:00 and 1:20 PM.  Meet at the State St. corner and get in line as the caravan comes around the square. At 1:30 PM we will head to a COVID-safe, creative celebration that will include music, art-making, and free food. This action will also contribute to #TeachTheTruthWisconsin and GreenFaith's Global Actions 4 Climate Justice (Caravan and celebration are Day 1 - see info about Day 2 at the end of this email) two projects supported by many Wisconsin groups and congregations. 
Free Julian Assange!
Friday, October 22, 5 - 7 p.m. at Catalano Square on the South end of Broadway in the Third Ward
Stand for Peace October 23, 2021, Saturday at 12:00 PM- Rally follows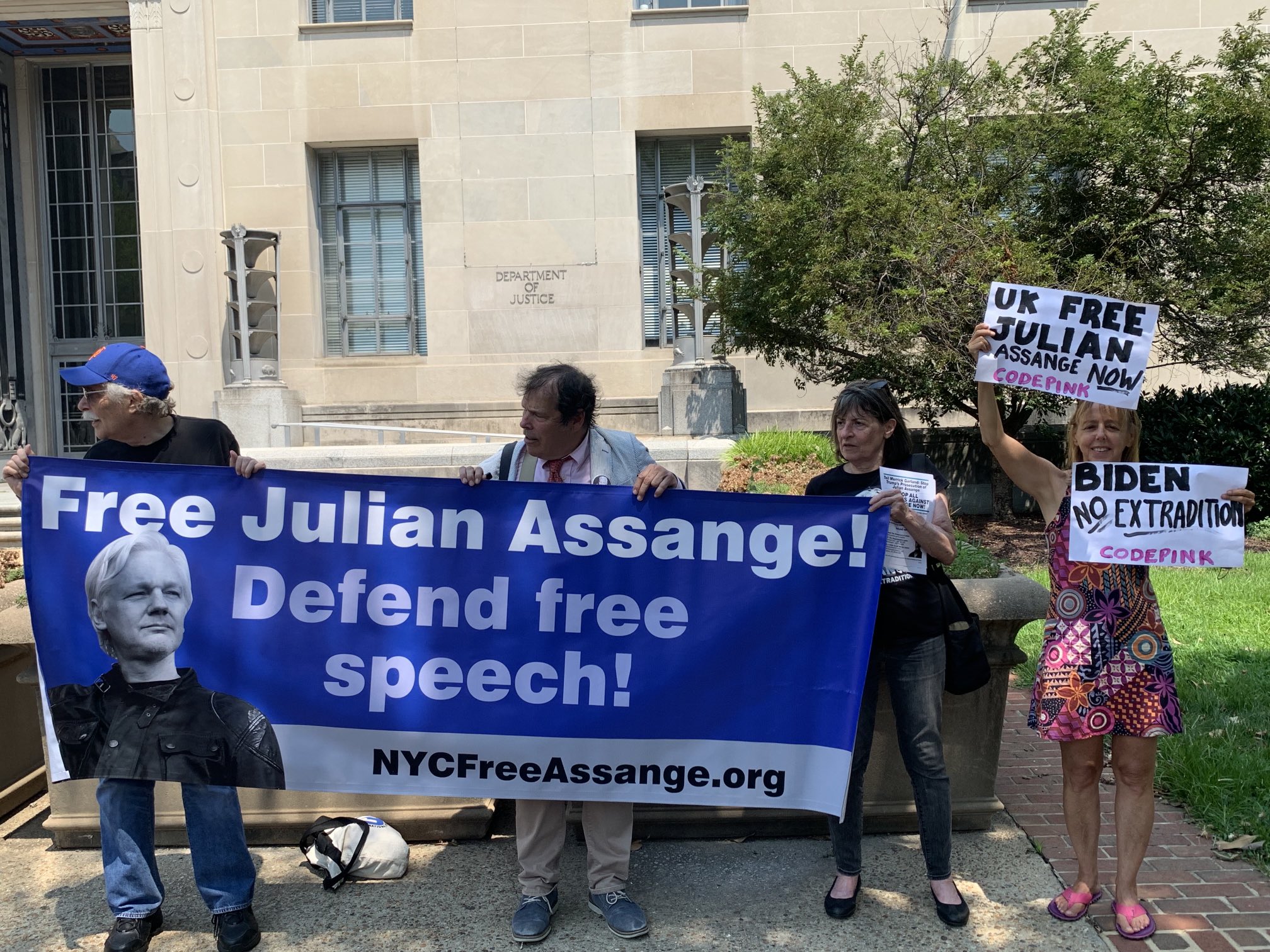 Mike Pompeo and the CIA plotted to assassinate or kidnap Julian Assange for exposing US war crimes in Iraq, Afghanistan and Guantanamo. This is how lawless thugs in authoritarian states react to publication of their own crimes. 
Nils Melzer had a thing or two to say in  response: https://www.assangecountdowntofreedom.com/videos/65-nils-melzer
Ray McGovern:
 https://original.antiwar.com/mcgovern/2021/09/26/isikoffs-cops-and-robbers-camouflage-the-big-lie/
This is why it is so important to Stand for Assange and Freedom of the Press. At both events musician Chris Borg will be channelling Roger Waters as he plays Pink Floyd covers prior to the U.S. appeal trial on October 27, 2021. 
You, like Medea Benjamin of CodePINK will have the opportunity to record a 15-30 second video on "Why should I care about Julian Assange."  See her recording here:
https://www.youtube.com/watch?v=kN9_Fghd6q0
Julian Assange Defense Milwaukee, Peace Action WI and the Milwaukee End the Wars Coalition
---
---
Departure November 2021, from Key West, Florida for Havana, Cuba 
In the tradition of seafaring civil demonstrations against injustice, CODEPINK is sponsoring a collective of sailors that have launched an exciting new venture: a US-Cuba Friendship Flotilla that will sail from southern Florida to Cuba in November 2021. We are looking for peace-loving, humanitarian people with boats, people interested in crewing on boats, and everyone willing to contribute time, funds, and/or resources to this inspiring initiative.
There are many ways you can help the US-Cuba Friendship flotilla. Please fill out this form with details of how you can help!
If you or anyone you know would like to know more about this project, please contact Tim Liveright at the following:
Email: [email protected] |  Cell phone: 609-389-1820
The flotilla will take place at a time when the Cuban people are suffering from both the pandemic, the economic consequences of shutting down their tourism industry to stop the spread of COVID, and cruel sanctions imposed by the Trump administration that President Biden has yet to overturn. The ships on the flotilla will carry medicines and other humanitarian supplies needed on the island.
The purpose of the flotilla is to show our friendship with the Cuban people, to demonstrate our opposition to U.S. sanctions (which have been consistently condemned at the United Nations by the world community), and to push the Biden administration to reverse Trump's sanctions and begin the process of normalizing relations with Cuba. 
---
Milwaukee County Board Supervisor Steve Shea introduced Resolution 21-826 calling for the Board to endorse the Back From the Brink "Call to Prevent Nuclear War". Supervisor Ryan Clancy is a co-sponsor. They are both Peace Action members.
The Resolution passed on Sept 23, 13 to 2!
The resolution calls upon United States federal policymakers to step back from the brink of nuclear war by:
Renouncing the US' nuclear first strike or "flexible response" policy
Removing the US' nuclear weapons from being on "hair-trigger" or high alert
Requiring checks and balances on the President's current sole authority to launch nuclear weapons
Canceling US replacement of entire nuclear arsenal with enhancements
Actively pursuing verifiable nuclear arms reductions between nuclear States with the goal of total nuclear disarmament
TAKE 

ACTION

 NOW and demand that the President, our two Senators and your Congressional Representatives embrace the principles of Back From The Brink  as they recognize the dangers of inaction when tasked with ridding the world of these Armageddon inducing Weapons of 

Mass

 Destruction.
---
Working together to create a peaceful, just and sustainable world founded in true democracy.

Racine Coalition for Peace and Justice
​