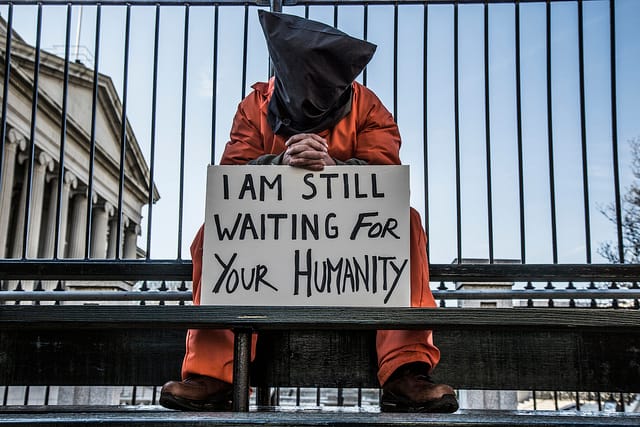 ---
January 22: Global Action Day for the Entry into Force

A huge range of events are planned across the globe on this special day, which you can check out on ICAN's website. ICAN will be hosting a live online event titled "Studio 22.21.", starting from 21:00 Swiss time (05:00 JST on January 22). Peace Boat will deliver contents to this event including messages from Hibakusha, as well as news from the cities of Hiroshima and Nagasaki celebrating the Entry into Force of the nuclear ban.
Some highlighted events in Japan:
In the city of Nagasaki, a special countdown clock tower has been established in front of the Nagasaki City Council; it will celebrate turning to zero at midnight local time.
Diet Member's Building, Tokyo / 10:00-16:00 (TBC): A delegation of Hibakusha will meet with Japanese government officials and Diet members to urge Japan to sign and ratify the TPNW (subject to cancellation or downscale due to the current state of emergency)
Survivors and local citizens will gather in front of the Atomic Bomb Dome in Hiroshima at 6pm local time to create a candle message (18:00)
School children will gather in front of the Children's Peace Monument in the Hiroshima Peace Park (18:30)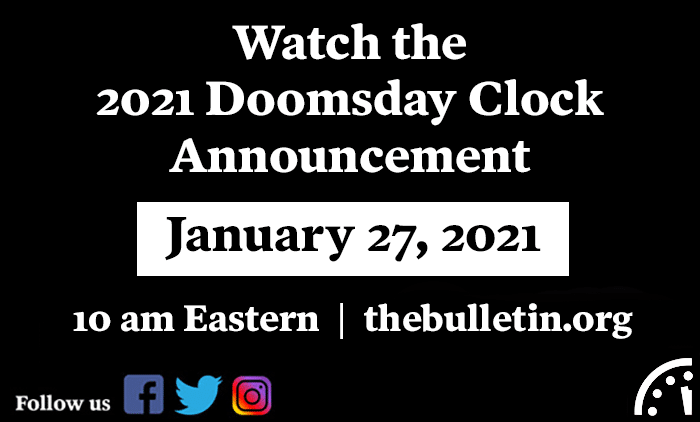 The Bulletin of the Atomic Scientists will host a live international news conference at 10 a.m. EST/1500 GMT on Wednesday, January 27, 2021, to announce the 2021 time of the Doomsday Clock. The news conference will take place virtually via Zoom. Watch the announcement live on our website or on our Facebook page.
Speakers for the Doomsday Clock announcement on January 27, 2021 include:
Governor Jerry Brown,

 

executive chair, Bulletin of the Atomic Scientists; former Governor, State of California
Dr. Gro Harlem Brundtland, member, The Elders; former Prime Minister, Norway; former Director-General, World Health Organization
Governor Hidehiko Yuzaki, Governor, Hiroshima Prefecture
Dr. Rachel Bronson,

 

president and CEO, Bulletin of the Atomic Scientists
Dr. Steve Fetter,

 

Science and Security Board member, Bulletin of the Atomic Scientists; associate provost, dean of the graduate school, and professor of public policy, University of Maryland
Dr. Asha George,

 

Science and Security Board member, Bulletin of the Atomic Scientists; executive director, Bipartisan Commission on Biodefense
Dr. Susan Solomon,

 

Science and Security Board member, Bulletin of the Atomic Scientists; Lee and Geraldine Martin Professor of Environmental Studies, Massachusetts Institute of Technology
---
---
For Immediate Release 
MONDAY, DECEMBER 21
CONTACTS
Medea Benjamin, CODEPINK, Medea.benjamin@gmail.com, 415-235-6517
Marcy Winograd, Progressive Democrats of America, winogradteach@gmail.com, 424-443-9338
Jeremy Varon, Witness Against Torture, jvaron@aol.com ,732-979-3119
Torture Victims & Their Advocates Oppose Morell & Haines for National Security Positions in the Biden Administration.
WASHINGTON, D.C.—Today, torture survivors and their advocates released an Open Letter urging President-Elect Biden not to nominate torture defender Mike Morell for CIA Director and asking the Senate not to approve Biden's nominee Avril Haines, a torture enabler, as Director of National Intelligence. The letter was also delivered this morning to members of the Senate Intelligence Committee, as well as President-Elect Biden and Vice-President Elect Kamala Harris.
Signatories include: Mansoor Adayfi, a writer from Yemen imprisoned for 14 years without charge at Guantanamo Bay, where he was force fed for two years; Moazzam Begg, a British-Pakistani ex-Guantanamo detainee and Outreach Director for CAGE, a service organization for torture survivors and communities impacted by the War on Terror; Sister Dianna Ortiz, a US missionary tortured by members of the CIA-funded Guatemalan army; Colonel Larry Wilkerson, Whistleblower and Chief of Staff to Secretary of State Colin Powell; John Kiriakou, former CIA officer imprisoned after exposing CIA waterboarding; and musician Roger Waters (formerly with Pink Floyd), whose song "Each Small Candle" is a tribute to torture victims.
The organizers of the letter, Marcy Winograd of Progressive Democrats of America, Medea Benjamin of CODEPINK, and Jeremy Varon of Witness Against Torture, have been lobbying against the inclusion of torture apologists in the Biden administration since the August Democratic National Convention, Their efforts include a letter to Biden from 450 DNC delegates, a CODEPINK petition signed by over 4,000, and calls to the offices of the Senators on the Intelligence Committee. "When we started this campaign," says 2020 DNC Delegate Marcy Winograd, "Morell was considered the frontrunner, but opposition to his disgraceful defense of torture has cast a pall on his nomination. We want to make sure his nomination is off the table, and that Biden and the Senate also understand we reject Avril Haines for her complicity in suppressing evidence of CIA torture,". 
Morell, a CIA analyst under Bush and Deputy and Acting CIA Director under Obama, has defended the agency's "enhanced interrogation" program, objecting to use of the word "torture" to characterize waterboarding, sleep deprivation, starvation diets, sexual humiliation, hypothermia and painful bodily contortions. Morrell also falsely claimed that torture "worked" in foiling terrorists plots. In addition, Morell defended the CIA's destruction of nearly 90 videotapes documenting brutal interrogations at CIA black site prisons.
As CIA Deputy Director from 2013-2014, Avril Haines overruled the CIA Inspector General in choosing not to punish agency personnel accused of hacking into the Senate Intelligence Committee's computers during their investigation into the CIA's use of torture. She was also part of the team that suppressed evidence of CIA torture by redacting the Senate Intelligence Committee's landmark torture report, reducing a 6,000 page document to 500 pages.
Both Morell and Haines supported Trump's nomination of Gina Haspel to CIA Director — a nomination that then-Senator Kamala Harris, other prominent Democrats, and Senator John McCain opposed. Haspel supervised a black site prison in Thailand and authorized a memo authorizing the destruction of CIA videotapes documenting torture.
Jeremy Varon, Witness Against Torture:
"Joe Biden and Kamala Harris promised to restore transparency, integrity, and respect for the rule of law to government. So how can their National Security team be led by people who endorsed, or tried to cover up, the clear crime of torture? It makes no sense."
Djamel Ameziane, Former Guantanamo Prisoner (2002-2013):
"Elevating torture apologists to a leadership position within the Biden administration will damage the USA's standing and give the world's dictators succor and comfort."
Jeffrey Kaye, Author, "Cover-Up at Guantanamo:
"Morell and Haines have put loyalty to CIA torturers above adherence to US treaties and domestic law, as well as basic morality. To allow them to serve in government would send a message to all that accountability for torture is passé, and that war crimes will always be dismissed with a wink from those in high office." 
John Kiriakou, Former CIA officer who blew the whistle on agency torture:
"Morell has disingenuously said that he was unaware of the CIA's torture program at the same time that he was the Agency's fourth-ranking officer. As deputy CIA Director and Acting CIA Director, he oversaw illegal activities around the world.  I can't believe that any sane person could or would consider Mike Morell as a serious candidate for CIA Director." 
Medea Benjamin, CODEPINK:
"We can't allow the new Biden administration to include people who have been involved–in any way–in heinous acts of torture. That's why we are part of a groundswell of opposition to both Mike Morell and Avril Haines for key intelligence positions. No torture apologists should be allowed to serve in this administration. Period." 
Torture Survivor Mansoor Adayfi on Morell's assertion that torture is effective: "In Guantanamo, when they put you under very bad circumstances—like 72 hours under very cold air conditioning, and you are tied to the ground and someone comes and pours cold water on you—you are going to tell them whatever they want you to say. I will sign anything, I will admit anything!," says Dayfi.
Torture Survivor Moazzem Begg on his treatment at Bagram Air Base before arriving at Guantanamo: "They tied me up with my hands behind my back to my legs, kicked me in the head, kicked me in the back, threatened to take me to Egypt to be tortured, to be raped, to be electrocuted. They had a woman screaming in the next room whom I believed at that time was my wife. They bought pictures of my children and told me I would never see them again." 
Colonel Larry Wilkerson, torture whistleblower: "Kidnapping, torture and assassination have no place in a democracy and turn the CIA into a secret police …Abuses of the kind documented in the Senate's report could happen again."
James Dorsey, attorney for released Guantanamo detainee Ahcene Zemiri. "As a Marine Corps veteran, I have always understood that when our servicemen have been captured and tortured in the past, a real source of strength for them has been knowing that their country would never engage in such conduct. " 
Also available for interviews:
James Dorsey, Attorney, represented released Guantanamo Detainee Ahcene Zemiri 
651.762.2837 (h)
612.492.7079 (o)
jdorsey@fredlaw.com  
********************************************************************************************************
Send a message to Michigan's Department of Environment, Great Lakes and Energy (EGLE) today. 

American Rivers, a national conservation group, has designated the Menominee River on the Michigan-Wisconsin border, one of the 10 most endangered rivers in the U.S. because of the threat of toxic sulfide mining next to the river.
Please go to American Rivers' website and send a message to Michigan's Department of Environment, Great Lakes and Energy (EGLE) to ban the dangerous tailings dam associated with toxic mining and deny a permit for the proposed Back Forty mine:
https://act.americanrivers.org/page/18329/action
More information at https://www.americanrivers.org/
---
Alert sent to WNPJ by Al Gedicks of the Wisconsin Resources Protection Council- agedicks@eagle.uwlax.edu
Nukes + climate change is a dangerous combo

Dear Pamela,

Nuclear power is not a solution to climate change. In fact, it's part of the problem.

When you take the entire nuclear fuel chain into account, nuclear is actually a net producer of greenhouse gases. Not only that, but nuclear facilities are highly vulnerable to flooding, super-storms, and other weather events caused by climate change.

Who's protecting us from the climate-related dangers of nuclear? That should be the Nuclear Regulatory Commission's (NRC) job—but Congress has muzzled it, and the NRC has become cozy with the industry it should regulate.

This has to stop. Congress needs to let (or make) the NRC do its job. Tell Congress: Make the NRC protect us from nuclear energy's climate dangers.

The letter you'll send to Congress about the NRC contains six demands:

Protect people and the planet by moving us as fast as possible to 100% renewable energy and phasing out nuclear power and fossil fuels.
Protect us against climate disasters that could turn into nuclear disasters.
Ensure that the NRC protects Indigenous and environmental justice community rights.
Prevent exposure to radiation.
Set safety and emergency requirements based on disaster prevention, not on easily biased probability calculations.
Ensure the NRC is an independent regulator, free from industry influence, and close the revolving door between the NRC and industry.

Enough is enough. Congress needs to let (or make) the NRC do its job. Tell Congress: Make the NRC protect us from nuclear energy's climate dangers.

After you email Congress, you'll have a chance to help us scale up this new campaign. Your support will be matched dollar-for-dollar by a generous donor. Please give generously!

But whether you contribute or not, please share the Who's Protecting Us campaign widely with your friends and family. The dangers of nuclear power are real, and we need our leaders to protect us.

Thanks for all you do!

The NIRS Team

Diane D'Arrigo
Luis Hestres
Denise Jakobsberg
Tim Judson

Nuclear Information and Resource Service
6930 Carroll Avenue Suite 340 | Takoma Park, Maryland 20912
3012706477 | nirs@nirs.org | nirs.org

 

 
 
-----------------------------------------------------------------------------------------------------------------------------------------------------------------
KOREA PEACE NOW! Peace Action of WI Zoom Meeting     October 8, 2020, Thursday at 7 PM, central time
Update from the Korea Peace Network by National Peace Action's Kevin Martin and UWM Professor Nan Kim of Women Cross DMZ

The Korea Peace Network, coordinated by Peace Action President Kevin Martin, is a network comprised of peace, social justice, human rights, faith, veterans and Korean-American groups and individuals advocating peace on the Korean peninsula.
War with North Korea should be avoided at all costs. Even a limited military strike would very likely lead to war with North Korea, which would imperil millions of lives. It's time to try diplomacy without preconditions. Successful diplomacy is about open-minded dialogue, not making demands. Urge your members of Congress to join our call for direct diplomacy with North Korea, and an end to the Korean War.
Women Cross DMZ
On May 24, 2015 thirty women peacemakers from fifteen countries, including Nan Kim, crossed the De-Militarized Zone from North to South Korea on International Women's Day for Peace and Disarmament. They held peace symposia with hundreds of Korean women in Pyongyang and Seoul and walked with 10,000 women on the streets of Pyongyang, Kaesong and Paju. They walked to call world attention to the un-ended Korean war, unite families, and ensure women's leadership in the peace building process.
----------------------------------------------------------------------------------------------------------------------------------
-----------------------------------------------------------------------------------------------------------------------------------------
​Stop Teaching War and Killing at Marquette University!
End Militarism!
Stand with Us Thursday, Sept. 24, 2020, at 11:30 AM
 Rally be at 14th and Wisconsin, in front of the Raynor Memorial Library.
Marquette Hosts Three Department of Defense military programs, the Department of Navy/Marines, Department of Army, and Department of the Air Force.    These three Department of Marquette are fully funded by the Department of Defense and serve all colleges and universities in Southeastern Wisconsin that are forced by US government to offer ROTC training for students in order to qualify for all US funds and grants by the Solomon Amendment of 1996.  The law requires colleges and universities to offer ROTC training but not to host it.  MU is the host for all colleges and universities in SE Wisconsin  MU also supports militarization via Defense grants and investments.
Golden Eagle Battalion Army Reserve Officers' Training Corps (ROTC) program at Marquette,  Martin Luther King, Jr
Sponsored by the Ad Hoc Stop Militarism at Marquette University Committee of the End the Wars Coalition of Milwaukee. Signs will be provided.
On Thursday, April 9, fast from sunrise to sunset in solidarity with the people of Yemen.
Calling all students, activists, individuals:
National Fast for Yemen
On Thursday, April 9, fast from sunrise to sunset in solidarity with the people of Yemen. Together, we will abstain from food and water to call attention to the millions of Yemenis facing starvation, thirst, disease, and political violence.
"An estimated 85,000 children under five may have died from extreme hunger or disease since the war in Yemen escalated"
— Save the Children, 11/20/2018
Fast
Pledge to fast on this website https://www.fast4yemen.org/
Abstain from food and water from sunrise to sunset in solidarity with the millions of Yemenis facing thirst and starvation.
Donate
"Share a meal" with a Yemeni by donating the equivalent of your fast-breaking meal to one of the reliable relief organizations provided on our website.
Last year (April 11, 2019), hundreds of students, activists, and individuals fasted in solidarity. We received 656 online pledges to fast from 5 continents, 17 countries, and 39 U.S. states. These included: students at 97 universities (81 in U.S.), 31 high schools (23 in U.S.), and 2 middle schools. Donations exceeded $2,750 (over $1,425 for Save the Children and $1,368 for Doctors Without Borders).
Let's bring awareness to Yemen's cause. Let's fast for Yemen.

From The Weekly,  A new TV series from The New York Times

You can watch full episodes on FX, Hulu, and in these areas outside the U.S.
This episode will be available to Times subscribers in the U.S. on April 25.
Producer/Director Alyse Shorland
U.S. defense contractors used the promise of new jobs to persuade the government to approve billions of dollars' worth of arms sales to foreign allies with little regard for how the American-made bombs, jets and other weapons are used.
The Trump administration has repeatedly cleared the way for lucrative contracts with Saudi Arabia, building on a 2015 decision by the Obama administration to support the Saudi-led war in Yemen — a conflict that's killed thousands of civilians and led to a dire humanitarian crisis with no end in sight. "We found ourselves locked into this terrible situation, unable to wrap it up, and handing it off to an administration that was going to handle it even worse than we did," Stephen Pomper, a former special assistant to President Barack Obama, told "The Weekly."
New York Times investigative reporters Walt Bogdanich and Michael LaForgia wanted to know why the war in Yemen continued despite reports of massive civilian casualties. Their reporting led them to look at the role of American defense contractors, including Raytheon, which makes precision-guided bombs that the Saudis have been using in Yemen. Raytheon, which has close ties to the Trump administration, depends on Saudi Arabia for 5 percent of its annual revenue, and needs U.S. government approval to sell its weapons overseas.
"Everybody in Yemen knows that the bombs causing this suffering are made in the United States," said Representative Tom Malinowski, Democrat of New Jersey, who served as a senior State Department official during the Obama administration.
Copyright © 2020 Voices for Creative Nonviolence, All rights reserved.
Our mailing address is:
Voices for Creative Nonviolence
1249 W Argyle St
Chicago, IL 60640
JWE launching webinar series on Syria March 25
Just World Admin March 18, 2020
https://justworldeducational.org/2020/03/jwe-to-launch-webinar-series-on-syria-march-25/
We are delighted to announce that on March 25, we'll be launching a web-based educational program, "Commonsense on Syria." This series of 10 webinar sessions aims to expand the discourse on Syria here in the United States (and elsewhere) by presenting interactive, web-based panel discussions among people with real expertise on Syria. Our panelists will represent a range of views, including views that have been un- or under-represented in Western corporate media over the past decade.
"Commonsense On Syria" will run biweekly, on Wednesdays and Saturdays, from March 25 through April 25. Each session will start at 1 pm New York Time and will last 45-60 minutes.
The full schedule of the 10 sessions is given below. Registration is required for each session: it is currently open for the first two sessions. Click on the links to register:
Session 1, March 25:
The first session of the series, March 25, will be "Introduction to Syria, its people, and history pre-2011" and will feature two great experts:
** Amb. Peter Ford, who was the United Kingdom's ambassador to Syria, 2003-2006. Ford went on from there to be the chief representative of the head of the UN agency UNRWA to the Arab world. In that capacity he traveled throughout the Arab world, including on a number of occasions to Syria, which is host to more than 500,000 UNRWA-registered Palestinian refugees.
** Prof. Joshua Landis, who is the Sandra Mackey Chair and Director, Center of Middle East Studies & Arabic at the University of Oklahoma. Landis has published widely on Syria and is the publisher of (and a frequent writer at) the "Syria Comment" blog.
JWE President Helena Cobban, who has also researched and written widely on Syria, will be moderating the discussion.
Session 2, March 28:
Session 2 will be "The Syrian Uprising in the context of the Arab Spring", and will feature a probing discussion (moderated by Helena Cobban) between these two great panelists:
** Prof. Richard Falk, a world-renowned expert on international law who spent six years, 2008-14 as the UN's Special Rapporteur on the Human Rights of the Palestinians of the Occupied Territories. (We are also proud that Falk is a member of the Just World Ed board.)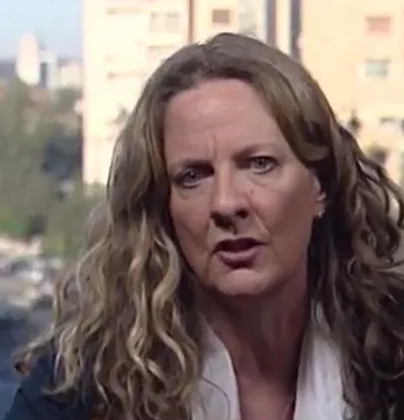 ** Ms. Vanessa Beeley, a British journalist who has reported from Libya, Syria and elsewhere. Beeley was a finalist for the 2017 Martha Gellhorn Prize for Journalism whose groundbreaking work from Syria has been endorsed by John Pilger and other leading investigative reporters.
Schedule for the whole series:
Details of the presenters for the other sessions in this webinar series will be posted as we are able to confirm them, but the basic schedule for the entire series is currently planned to be as follows. Check back here frequently to see details of the additional panelists as they are confirmed.
| | |
| --- | --- |
| Date | Topic |
| Mar. 25 | Introduction to Syria, its people, and history pre-2011 |
| Mar. 28 | The Syrian Uprising in the context of the Arab Spring |
| April 1 | US policy toward Syria |
| April 4 | Western media's role, including on the chemical weapons issue |
| April 8 | Israel's role in Syria |
| April 11 | Syria in the region |
| April 15 | Syrian refugees & IDPs |
| April 18 | Palestinian refugees in Syria |
| April 22 | Sanctions & their effects on reconstruction |
| April 25 | Negotiations over constitutional reform. |
--
 On Feb 18th at noon, Congresswoman Gwen Moore has agreed to take a picture with peace activists standing under a peace billboard (see below) at Wells and James Lowell (7th St).  

Please join us for a photograph to promote this national peace billboard campaign. (details below).  Be there by noon. Gwen is scheduled to be there for only 15 minutes. She will make a statement. Other brief statements will be made by Peace Action (Julie Enslow), FCNL (Roger Hansen), UNA and others. Call Jim Carpenter (414) 347-0353 if you need more info. See you Tuesday :)                
Billboard at Wells and James Lovell: 3% of U.S. Military Spending Could End Starvation on Earth
For immediate release: February 5, 2020
Contact: David Swanson david@worldbeyondwar.org, Bill Christofferson xofffiles@gmail.com, Jim Carpenter jcmilwgr@yahoo.com
A billboard at the south-east corner of Wells and James Lovell (7th) Streets, across the street from the Milwaukee Public Museum through the month of February and again for the month of July when the Democratic National Convention is held nearby, reads:
"3% of U.S. Military Spending Could End Starvation on Earth"
Is it a joke?
Hardly. Milwaukeeans and others around the country with little money of their own to spare have been chipping in to put up billboards like this one in an effort to call attention to the biggest elephant in the American room -- even if, in political mascot terms, it's a hybrid elephant-donkey: the U.S. military budget.
Organizations that have contributed to this billboard include World BEYOND War, Milwaukee Veterans For Peace Chapter 102,  and Progressive Democrats of America.
Paul Moriarity, president of Milwaukee Veterans For Peace remarked: "As veterans, we know that endless wars and the Pentagon's corporate handouts do nothing to make us safe. We waste hundreds of billions of dollars that would be better spent on pressing needs like education, health care, and averting catastrophic climate change. Educating and reminding people of the true costs of war is a primary mission of Veterans For Peace. We  are happy to be a partner in this effort by World BEYOND War."  
World BEYOND War has put up billboards in numerous cities. The organization's Executive Director David Swanson said the approach has helped create conversations that otherwise don't happen. "In the most recent presidential primary debate on CNN, as is typical," he said, "the moderators asked the candidates what various projects would cost and how they would be paid for, but lost all interest in cost when it came to questions of war. The single biggest item in the federal discretionary budget, taking up over half of it alone, is perhaps the least-discussed item: military spending."
Jim Carpenter, local contact for the Progressive Democrats of America, said he believes Senator Bernie Sanders is correct when he says we must "bring together the leaders of the major industrial nations with the goal of using the trillions of dollars our nations spend on misguided wars and weapons of mass destruction to instead work together internationally to combat our climate crises and take on the fossil fuel industry. We are uniquely positioned to lead the planet in a wholesale shift away from militarism."
As of 2019, the annual Pentagon base budget, plus war budget, plus nuclear weapons in the Department of Energy, plus military spending by the Department of Homeland Security, plus interest on deficit military spending, and other military spending totaled $1.25 trillion (as calculated by William Hartung and Many Smithberger).
The Milwaukee County Board of Supervisors in 2019 passed a resolution that read in part:
"WHEREAS, according to the Political Economy Research Institute of the University of Massachusetts, Amherst, spending $1 billion on domestic priorities produces 'substantially more jobs within the U.S. economy than would the same $1 billion spent on the military'; and
"WHEREAS, Congress should reallocate federal military outlays toward human and environmental needs: aid toward the goal of providing free, superior education from pre-school through college, end world hunger, convert the United States to clean energy, provide clean drinking water everywhere needed, build high speed trains between all major U.S. cities, finance a full-employment jobs program, and double non-military foreign aid."
"End world hunger," said Swanson, "is rightly only one small item in the list of what would be possible by redirecting a portion of destructive and counter-productive military spending. It would, however, constitute a major shift in foreign policy. Imagine what the world would think of the United States, if it were known as the country that ended world starvation. The decrease in hostility could be dramatic."
World BEYOND War explains the 3 percent figure this way:
In 2008, the United Nations said that $30 billion per year could end hunger on earth, as reported in the New York Times, Los Angeles Times, and many other outlets. The Food and Agriculture Organization of the United Nations (UN FAO) tells us that number is still up to date. Thirty billion is only 2.4 percent of 1.25 trillion. So, 3 percent is a conservative estimate of what would be needed. As noted on the billboard, this is explained in some detail at worldbeyondwar.org/explained
On Tue, Nov 19, 2019 at 10:49 PM Erik Sperling of Just Foreign Policy <erik@justforeignpolicy.org> wrote:. 
We are circulating a letter in Congress now. I've pasted those details below.  We NEED people like Rashida Talib, Barbara Lee, Gwen Moore -- and any other champions that folks may be connected to -- on this letter. So anything you  can do to do outreach to Congressional offices would be huge. To give you a sense of how horrific the climate is on the Hill right now around this, check out this pretty irritating article: https://thehill.com/policy/international/americas/471180-sanders-doubles-down-on-bolivia-coup-few-follow-suit
Getting a good turnout on this letter would really go a long way to change the narrative and support Bernie's terrific comments.We did two blasts to our list with petitions, one targeting the NYT for endorsing the coup, and one targeting members of Congress.  Thanks 
  https://www.change.org/p/nytimes-retract-your-endorsement-of-the-military-coup-in-bolivia
https://www.change.org/p/congress-condemn-the-military-coup-in-bolivia
Related Legislative Issues
Letter Urging Trump Administration to Reverse Dangerous Bolivia Policy

Sending Office: Honorable Henry C. "Hank" Johnson, Jr.
Sent By: Chelsea.Grey@mail.house.gov

 

 

 

 

Request for Signature(s)

Administration's Support for Military-backed Regime and Silence on Violent Repression Contributes to Spiraling Crisis

Current Signers (4): Hank Johnson, Ilhan Omar, Susan Wild, Raúl Grijalva

Deadline Wednesday, November 20, COB

Dear Colleague,

Please consider signing a letter to Secretary Pompeo expressing concern over statements and actions of Trump administration officials that have contributed to the escalating political and human rights crisis in Bolivia following the contested elections in October 2019.

About two dozen Bolivians have been killed, and hundreds more wounded by security forces using live ammunition against demonstrators after the country's elected president, Evo Morales, resigned under pressure from the military. The Trump Administration has fully embraced an unconstitutional power grab that installed far-right conservative leader Jeanine Añez, who called indigenous religion "satanic" and declared that "the bible has returned to the palace", sparking fears among Bolivia's indigenous majority. Añez issued a decree exempting the military from prosecution for their actions to repress demonstrators, and has threatened to arrest pro-Morales legislators and journalists for "sedition".  

The letter urges the Trump Administration to change course and support democracy and human rights, by calling for the restoration of constitutional order and an end to all persecution and attacks targeting indigenous people and supporters of Evo Morales. Further, the letter urges support for new elections that permit all parties to fully participate, and calls for the Administration to denounce racist rhetoric and attacks against Bolivia's indigenous majority. Lastly, the letter also expresses concern over the Trump Administration's repetition of unsubstantiated claims made by the OAS that further polarized the country. 

For any questions, or to add your name, please contact Chelsea Grey in Rep. Johnson's office, at Chelsea.Grey@mail.house.gov or 5-1605. 

Sincerely,

Henry C. "Hank" Johnson, Jr.

Member of Congress

________________________________________________________________________________________________

Letter Text:

Secretary Pompeo,

 

We are deeply concerned that recent statements and actions on the part of senior Trump Administration officials are contributing to an escalating political and human rights crisis in the Plurinational State of Bolivia following contested elections held on October 20, 2019.  




On November 10, Bolivia's democratically elected president, Evo Morales, announced that he was stepping down after the commander of Bolivia's armed forces called on him to resign. In a live television broadcast, Morales stated that a coup was underway and that he was resigning in order to avoid further bloodshed and unrest. Other resignations of top officials followed, resulting in a dangerous constitutional power vacuum. On November 12, opposition Senator Jeanine Añez declared herself President of Bolivia, in violation of Bolivia's constitution. She received immediate support from the high command of the country's armed forces. 




Over the last week, Morales allies have faced attacks and threats and anti-coup protests have been violently repressed by security forces, resulting in numerous deaths and injuries according to the Inter-American Commission on Human Rights. Bolivia's de facto authorities have issued a decree exempting members of the military from prosecution as they engage in the violent suppression of demonstrations. Morales meanwhile has received asylum in Mexico and pro-Morales legislators and journalists have been threatened with arrest for "sedition."




Given this context, we are troubled by statements from Administration officials, including President Trump, that welcome these developments in Bolivia that bear all the hallmarks of a military coup d'Etat. On November 11, the White House released a statement saying that "Morales's departure preserves democracy" and that "we are now one step closer to a completely democratic, prosperous, and free Western Hemisphere." On November 12,  Assistant Secretary for Western Hemisphere Michael G. Kozack recognized Senator Añez as "interim constitutional president of Bolivia." The Administration has been silent as demonstrations made up largely of indigenous Bolivians have been fired at with live ammunition. 




We urge you to consider an immediate change in course and to take action to support democracy and human rights in Bolivia.  While there is legitimate debate surrounding Morales' decision to run for a fourth term, it is simply not acceptable for the U.S. administration to welcome the forced removal of a democratically-elected leader before the end of their mandate. Our government should call for the prompt restoration of constitutional order, and for an immediate end to all persecution and attacks targeting leaders and supporters of Evo Morales and his political party. Additionally, we call for the adoption of protective measures for those facing threats.




Your Administration should support calls for dialogue mediated by the United Nations and other international bodies. It should also support new elections and work with other countries in the region to ensure adequate conditions that guarantee that every voter and every candidate can safely and freely participate in the next election campaign and electoral process. The legitimacy of Bolivia's government will depend on whether former President Morales' party, which continues to be supported by millions of Bolivians, can fully participate in these elections. 




We wish to also express our concern regarding statements made by officials from the Organization‌ ‌of‌ ‌American‌ ‌States‌ ‌(OAS),‌ a multilateral organization that receives the majority of its funding from the U.S. government. In particular, unsubstantiated and misleading statements made by the OAS electoral mission in Bolivia on October 21, which subsequently were echoed by the State Department, contributed to further polarization at a moment in which violent politically-motivated incidents were taking place throughout the country. United States officials should exercise greater caution and assess the merits of Organization of American States officials' claims before repeating them, particularly when post-election tensions are high.




Finally, we are deeply dismayed that the Administration has failed to denounce racist attacks targeting Bolivia's indigenous communities and their symbols, such as the Wiphala pan-indigenous flag which is one of the country's official flags. Evo Morales was Bolivia's first indigenous president and Bolivia's 2009 constitution enshrines rights and protections benefiting indigenous peoples that experienced centuries of oppression and racist discrimination. Self-declared interim President, Jeanine Áñez has a history of appalling statements about indigenous people, including tweeting comments that refer to indigenous religious rituals as "satanic", and after supplanting former President Morales, she declared that "The bible has returned to the palace". Your Administration should be publicly critical of attacks and racist hate speech targeting members of indigenous communities and call for the constitutional rights of Bolivia's peoples to be respected.  




Bolivia's escalating crisis threatens to spiral into violent internal conflict. The Administration's current approach is dangerously misguided and could well contribute to a further breakdown in the rule of law in Bolivia and a full-blown humanitarian emergency, with large migrant outflows.  We strongly urge you to revise this approach and support the prompt restoration of constitutional order, dialogue between opposing political factions, fair and inclusive elections and respect for the human and cultural rights of all Bolivians.  




Sincerely,





Current Signers:

Hank Johnson

Ilhan Omar

Susan Wild

Raúl Grijalva
Emergency Rally!  Against the Military Coup in Bolivia!
Special Stand for Peace 
Saturday, Nov.16, Noon, at Martin Luther King, Jr. and Locusts St.
Party for Socialism & Liberation, Peace Action of WI, WI Bail Out the People Movement, Women's  International League for Peace and Freedom, Veterans for Peace of Milwaukee-Chapter 102, and many other
Dreaming of Freedom: Stories of Palestinian Liberation
Oct. 26, Saturday at 6:30 -9 PM
First Unitarian Society of Milwaukee, 1342 n Astor, Milwaukee, WI 53202
Come hear Yousef Aljamal, A Gaza-Palestinian justice activist, writer and scholar, who is on a speaking tour of the US. Learn about the incarceration of Palestinian children by the Israeli military and the ongoing crisis in Gaza, which has endured 13 years of continuous seige.
Hosted by Jewish Voice for Peace- Milwaukee, Milwaukee Palestine Action Network, US Palestinian Community Network, Co-sponsored by Peace Action of WI
Child Detention: Palestine to Milwaukee to the US- Mexico Border
Oct. 26, Sat, 2-4 PM
Mitchell St Public Library, 906 W Mitchell St
Palestinian activist Yousef Abjamal and local Milwaukee activists will discuss the connections between child detention in Palestine and detention of migrant children on the US- Mexico border.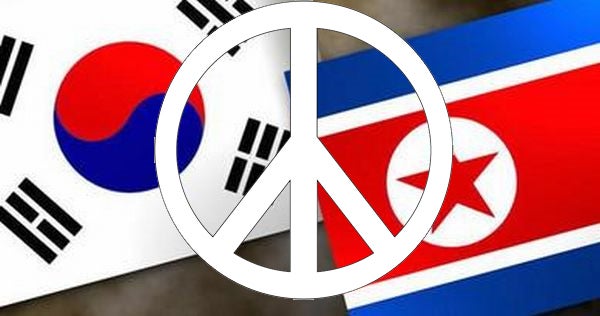 ACTION ALERT
National Call-in Day for Korea Peace
Tuesday, October 8, 2019.
The American Friends Service Committee, Korea Peace Network, Korea Peace Now! Grassroots Network, Peace Treaty Now, United for Peace and Justice, and Win Without War are jointly announcing a National Call-in Day for Korea Peace, on Tuesday, October 8, while our Congress members are back in their local District Offices.
On this important day, please take just 3 minutes to call your District Office and urge your House Representative to co-sponsor H. Res. (House Resolution) 152: Calling for a formal end to the Korean War. The Korean War -- now 70 years-old -- is the longest continuing US conflict in the world. It's time to end it, and we need your help!
SUGGESTED SCRIPT A (For those who have not co-sponsored H Res 152
Hi, my name is ____, calling from ____(city/town)____. I'm calling to urge Representative _____ to co-sponsor House Resolution 152: Calling for a formal end to the Korean War.

You can use any (or all) of the following options for supporting arguments:
The Korea issue is bigger than Donald Trump or Kim Jong-un. We should not lose sight of what's at stake: the lives of 80 million Koreans in North and South Korea and 28,500 US troops in South Korea. Also, there are tens of thousands of Korean Americans who have family members in South and North Korea who will be impacted. For lasting peace on the Korean Peninsula, we must end the Korean War with a formal peace agreement now, so that genuine diplomacy can begin. Please urge Representative __________to co-sponsor and support H.Res.152.  Thank you.
The American public is tired of endless wars. It's time to shift our national priorities from war to jobs and human needs at home. The Korean War -- now 70 years-old -- is the longest US conflict in the world. Let's finally end the Korean War so that genuine diplomacy can begin. Please urge Representative __________to co-sponsor and support H.Res.152. Thank you.

SUGGESTED SCRIPT B (For those who have already co-sponsored)
Hi, my name is ____, calling from ____(city/town)____.  I want to thank Representative _________ for co-sponsoring House Resolution 152: Calling for a formal end to the Korean War.  I appreciate (her/his) support very much and hope (she/he) will find opportunities to urge other colleagues in the House to do the same, as well as voice support for Korea peace in public statements and presentations whenever possible. We need more champions for peace in Korea!  Thank you.
CAMPAIGN NONVIOLENCE
DEMONSTRATION AGAINST WAR
SEPT. 16, 2019, 5-6 PM
Milwaukee Lakefront- Bradford Beach Overpass
Sponsored by Peace Action of Wisconsin
Co-sponsors: Veterans for Peace, Women's International League for Peace and Freedom, Building Unity, United Nations Association of Milwaukee, Racine Coalition for Peace and Justice, Racine Central America Solidarity Coalition, Friends Committee on National Legislation- Milwaukee, Palestine Action Network- Milwaukee, WI Cuba Coalition, and more tba
For information: peaceactionwi.org, 414-269-9525
In 2013, the UN General Assembly (UNGA) declared September 26 to be the

 

International Day for the Total Elimination of Nuclear Weapons

 

(Nuclear Abolition Day).

The

 

UNGA resolution

 

establishing the day calls for progress on a

 

nuclear weapons convention

 

– a global treaty involving both nuclear-armed and non-nuclestates in the prohibition and elimination of nuclear weapons under strict and effective international control.

Civil society is encouraged to organise events or take action on this day to promote the complete elimination of nuclear weapons. See below for suggested actions.

 


 
UN High Level Meeting on Nuclear Disarmament
The United Nations General Assembly will host a High Level Meeting on Nuclear Disarmament at the UN Headquarters on September 26. UN Member States will be represented by their Presidents, Prime Ministers, Foreign Ministers or UN Ambassadors. The event will aslo be live-streamed on http://webtv.un.org/.
A limited number of NGOs will be able to attend the event. In addition, the UN Office of Disarmament Affairs will select two representatives from civil society to speak. Registration and application to speak closes on August 23. Click here to register.

Suggested Action: Encourage your Prime Minister/President to participate in the Sep 26 UN High-Level Meeting on Nuclear Disarmament, and to use this opportunity to call on all states to commit to never launch a nuclear war, and to negotiate an agreement for the the complete elimination of nuclear weapons (nuclear weapons convention);
Kekhashan Basu, Youth Ambassador for the World Future Council and member of the Abolition 2000 Youth Network, was one of the two civil society representatives selected to speak at the UN High Level Meeting on Nuclear Disarmament last year (2018).

The Man who Saved the World
September 26 is also the anniversary of the incident in 1983 when a nuclear war was almost launched due to malfunctions in the Soviet nuclear weapons early warning system, which erroneously detected a US ballistic missile attack against Moscow. The incident is graphically portrayed in the award winning docu-drama 'The Man who Saved the World.'

Suggested action: Organise a screening of 'The Man who saved the World' or other local event for Nuclear Abolition Day

Global week of action on Peace, Climate, SDGs and Nuclear Abolition
The International Day for the Total Elimination of Nuclear Weapons falls in the same week as the UN International Day for Peace (Sep 21), the UN Climate Summit (Sep 23) and the UN Summit on SDGs (Sep 24-25).

As such, peace, development and climate action networks are cooperating with nuclear abolitionists on a Global Week of Action on Peace, Climate, Sustainable Development and Nuclear Abolition, Sep 21-27.

Suggested action: Join the Move the Nuclear Weapons Money campaign to cut nuclear weapons budgets, end investments in nuclear weapons (including investments by your bank, city, pension fund, university, sovereign wealth fund etc…), and shift these budgets and investments to promoting peace, protecting the climate, ending poverty and achieving the Sustainable Development Goals. 
 
List of Nuclear Abolition Day events and actions around the world
UNFOLD ZERO is compiling a list of Nuclear Abolition Day events and actions around the world. Please click here to inform us of your event or action.
Yours sincerely


UN

FOLD ZERO
Copyright © 2019 UNFOLD ZERO
You are receiving this email because you subscribed at our website, or you expressed interest in actions to advance nuclear disarmament through the United Nations.

UNFOLD ZERO is a platform for United Nations (UN) focused initiatives and actions for the achievement of a nuclear weapons free world. It's a project of Basel Peace Office, Mayors for Peace 2020 Vision Campaign, PNND, PragueVision, Aotearoa Lawyers for Peace and Global Security Institute.

UNFOLD ZERO

Hosted by Basel Peace Office

c/o Seminar für Soziologie, Universität Basel, Petersgraben 27

Basel

 

CH-4051

Switzerland