Peace and Justice Calendar 
---
STAND FOR PEACE Saturdays  Noon to 1 PM. Wear masks and social distance.

July 24: 43rd/Forest Home

July 31: Lincoln Memorial/LaFayette Hill

August 7:  No Stand  Lanterns for Peace

August 14: Howell and Howard

August 21: Lincoln Memorial and Michigan

August 28: King and Locust

September 4: Silver Spring and Lake Drive

September 11: 76th and Layton

September 18: Capitol and Teutonia

September 25: HWY 100 and Bluemound

---
SUNDAY, JULY 25, 2021 AT 11 AM PDT – 1:30 PM PDT
Car & Bike Caravan to Support Cuban and All Latino Families
Mitchell Park Domes - Parking Lot
En Español Abajo
We will meet at 1pm on July 25 in the parking lot of the Mitchell Park Domes, 524 S Layton Blvd (S 27th St) Milwaukee 53215.
Generally on the last Sunday of each month, these caravans have now spread worldwide, initiated by Cuban-Americans in Miami to End the US blockade and to support Cuban families. The economic blockade of Cuba is now 60 years old, and under Trump US flights to most Cuban cities, most remittances, Western Union licenses, etc. were all shut down. Biden has not reversed any of this.
Biden and Congress must also recognize that 69% of undocumented workers in the US are also front-line "essential" workers. They should be given a swift path to citizenship and be eligible for all pandemic payments.
End all inhumane border separations and restrictions on family unification!
---------------------------------
Nos reuniremos a la 1 pm el 25 de julio en el estacionamiento de Mitchell Park Domes, 524 S Layton Blvd (S 27th St) Milwaukee 53215.
Generalmente, el último domingo de cada mes, estas caravanas se han extendido por todo el mundo, iniciadas por cubanoamericanos en Miami para poner fin al bloqueo de Estados Unidos y apoyar a las familias cubanas. El bloqueo económico de Cuba tiene ahora 60 años, y bajo los vuelos de Trump de Estados Unidos a la mayoría de las ciudades cubanas, la mayoría de las remesas, las licencias de Western Union, etc. fueron cerradas. Biden no ha revertido nada de esto.
Biden y el Congreso también deben reconocer que el 69% de los trabajadores indocumentados en los Estados Unidos también son trabajadores "esenciales" de primera línea. Se les debe dar un camino rápido hacia la ciudadanía y ser elegibles para todos los pagos por pandemia.
¡Poner fin a todas las separaciones fronterizas inhumanas y las restricciones a la unificación familiar!
---
SATURDAY, JULY 24, 2021 AT 4 PM PDT
July Sustainable Saturday - Stop Line 3 and No F-35s in Madison
Join us for community discussions about two of the most important justice issues of our time.
Learn how you can get involved to support the movements to stop both the F-35's from being based in Madison and the completion of the Line 3 pipeline expansion.
For more info call Tim at 608-630-3633.
---
Peace Action Wisconsin Presents
FRIDAY FREEDOM FLICKS
Future Friday flicks: July 30 (Cuba); August 13 (Palestine); August 27 (the permanent war economy).
---

Remembering Hiroshima and Nagasaki-Lanterns for Peace
Second Annual Milwaukee Lakefront Candlelight Vigil for Peace and Global Nuclear Disarmament
Saturday, August 7, 2021, 7 ~ 9 pm
Please join Peace Action of Wisconsin for a candlelight vigil along Milwaukee's Lincoln Memorial Drive, near the Bradford Beach Pedestrian Bridge. We will commemorate the 76th anniversary of the atomic bombings of Hiroshima and Nagasaki and renew our commitment to a world free from nuclear weapons.
Free parking and distribution of lanterns, signs and banners in the parking lot across from Bradford Beach. Additional parking available in the North Point lot south of the beach.
Everyone please wear masks.
Special peace masks will be available for sale.
For more information, please contact Peace Action of Wisconsin
Phone:  414-269-9525 and leave a message
Website:  PeaceActionWi.org
Facebook:  facebook.com/peaceactionwi 
Co-sponsored and endorsed by the End the Wars Coalition and a number of other local peace & justice organizations.
************************************************************************
Please donate to help with the work of Peace Action WI in 2021
Donate here: https://www.peaceactionwi.org/donations_
********************************************************************************
The United States must Establish a No First Use Policy
A nuclear exchange between the US and Russia would incinerate hundreds of millions of people immediately, and lead to a Nuclear Winter which would slaughter an estimated 7 billion of the Earth's 7.7 billion people, mostly through starvation.  A U.S. nuclear strike against China would result in a similar catastrophe.
Call on President Biden, Secretary of State Blinken, Secretary of Defense Austin, and your representatives in Congress, to put in place a policy of No First Use of nuclear weapons as an important step to prevent nuclear war.
---
 Update on the Treaty for the Prohibition of Nuclear Weapons from the International Campaign to Abolish Nuclear Weapons
Seychelles just became the 55th country to ratify the Treaty on the Prohibition of Nuclear Weapons. 
---

Stand for a Livable Climate, Fridays for the Future,  Noon to 1 PM
Chase & Wells Fargo Banks, Water St & Wisconsin Ave, Milwaukee, WI
Wells Fargo and Chase have over $60 Billion each in fossil fuel investments.
DIVEST FROM FOSSIL FUELS! STOP THE DIRTY OIL PIPELINES! Save our Environment and stop climate change!
Sponsored by 350MKE, endorsed by Peace Action WI
---
Lanterns for Peace Madison – Aug 9, 6:30 pm
Join us for this family friendly event to commemorate the lives lost in the Hiroshima and Nagasaki bombings 76 years ago and make sure that such nuclear attacks never again take place.
Tenney Park
402 N Thornton Ave, Madison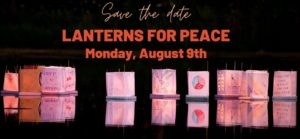 More information at psr-wisconsin.org/lanterns-for-peace-2021
Why Safe Skies Clean Water WI is co-sponsoring this event:
Each F-35 jet can carry two nuclear warheads

 

up to four times more powerful than the bombs that destroyed Hiroshima and Nagasaki, which caused hundreds of thousands of deaths. They are specifically designed to carry the variable yield B61-12 thermonuclear bomb. Some military officials and politicians seem to think that using a "small" nuclear bomb is acceptable.
The Department of Defense designated the F-35 as a part of its strategic nuclear bomber force

 

in the

 

2018 Nuclear Posture Review.

 

 

The F-35 is meant to be a first strike bomber – not a defense vehicle.
While we have "assurances" from the Air Force, Air National Guard, and Senator Tammy Baldwin that Madison & Dane County are nuclear-free zones and there will be no nuclear weapons here, pilots will be training at Truax to fly the F-35s. They can pick up the bombs elsewhere.
The event will be open to the public to attend at Tenney Park outside of the John Wall Family Pavilion and the entire event will be held outdoors. You are welcome to mail in your lantern if you cannot be in attendance.
Open to public at 6:30pm for people to create lanterns
Program starts at 7:30pm
Lanterns launched at dusk – approximately 7:45-8:00pm
Sunset is 8:10pm
Hosted by Physicians for Social Responsibility Wisconsin
Event Sponsors:
First Unitarian Society Justice Ministry
Interfaith Peace Working Group
Linda and Gene Farley Center for Peace, Justice & Sustainability
Nukewatch
Outrider Foundation
Safe Skies Clean Water Wisconsin
Wisconsin Network for Peace and Justice
---
President Biden: Listen to the world & end the Cuba embargo!
Statement by Alliance for Cuba Engagement and Respect (ACERE)
https://acere.org/2021/06/23/statement-unvote-2021/
ACERE condemns the United States' vote today at the U.N. General Assembly. We call on President Biden to uphold his campaign promise and implement basic, simple and common sense policy changes towards Cuba, particularly while the world continues to grapple with a global pandemic.  
There continues to be widespread support across the U.S. for normalized relations with Cuba and an end to punishing, illegal sanctions that continue to inflict harm and poverty on the Cuban people. 80 Members of Congress wrote to Biden in early March calling for immediate action to restore Obama's policy towards Cuba and move towards ending the embargo. U.S. citizens are passing dozens of citywide resolutions calling for bilateral cooperation; they have raised over $400,000 to send syringes to help Cuba's vaccination campaign; they are organizing monthly caravans in dozens of cities. Cuban Americans, anxious to help their families back home, have taken the lead in many of these activities. 
Today's vote in the UN sends a clear message to the Biden administration that the world shares the sentiments of a majority of U.S. Americans. 
For 29 years, member states of the United Nations have voted on a resolution condemning the U.S. economic, commercial and financial embargo against Cuba. Today, the international community spoke nearly unanimously again, with 184 states against 2 (the United States and Israel). The world community has once again affirmed that this extraterritorial embargo which is effectively an economic blockade is an unjust, cruel and outdated policy that only isolates the United States — not Cuba — from the rest of the world. 
Illinois Rep. Bobby Rush Reintroduces Legislation To Normalize Relations With Cuba
https://rush.house.gov/media-center/press-releases/rush-reintroduces-legislation-to-normalize-relations-with-cuba-0
---

NO F-35s in WISCONSIN!
Peace​ A​ction WI​​​ & the Interfaith Peace Working Group Postcard Campaign of Resistance against the F-35s! 
Tell Senator Tammy Baldwin that you do not want these F-35 fighter jets in Wisconsin.  
For more information about the F-35s, please check out this website: www.safeskiescleanwaterwi.org
If you need postcards, please contact Pam Richard, Peace Action WI, 414-269-9525, [email protected] or
Jane H Kavaloski, and Jim Murphy, Interfaith Peace Working Group  [email protected]
https://forms.gle/4tDoEYFfnh6WuJdV9
QR Code:
 Hold phone camera over QR Code to connect with postcard order form.
---
---
Check this compilation of Sue Ruggles' photos and videos of Peace Action WI 
https://www.peaceactionwi.org/photos 

Harvey Taylor- 
Friends, my video in partnership with Susan Ruggles, 'The Dove Of 
Peace':
You can access all my videos on my website:
http://harveytaylor.net/videos.html?fbclid=IwAR3UkStrIB1-EDyxyUvm3Nnc9RPWDPLjgs7-ZMMdX5ewzKs9_8tBmYbDUI0
---
Working together to create a peaceful, just and sustainable world founded in true democracy.

Racine Coalition for Peace and Justice
​