New Visions for the Pacific, Feminist Peace Initiative Roundtable
Aug 4, 2022
Although the RIMPAC exercises are set to conclude this week, military presence in the Pacific continues and so do the legacies of community resistance that many of our panelists spoke to.

Cancel RIMPAC - A Collective Poem video. 
Best, Kate Alexander MADRE for the Feminist Peace Initiative
How is RIMPAC and the intensifying militarization due to the US-China conflict impacting your community? How does this connect with other fights?
Joy Enomoto of Hawai'i Peace and Justice 
RIMPAC has been ongoing since 1971, occuring every 2 years.

Hawaiians have opposed these exercises since their inception. Earliest opposition was around 1976 in relation to nuclear-free in the Pacific, Indigenous sovereignty, and anti-militarism movements. 

Consistently fighting the Navy, seeing Hawai'i as the "head of the octopus" with tentacles extending across the Pacific. 

Other militaries come to Hawai'i to train to suppress other indigenous communities.

10 million marine animals have been killed in relation to RIMPAC exercises since 2018.

Rise of sex trade and sexual exploitation when military troops enter Hawai'i, which is widely recognized and capitalized upon, e.g. strip clubs advertising "welcome RIMPAC."

There is a pervasive view that the islands are "here for the taking," and for the military's pleasure.

The military has poisoned 90,000 with tanks dating back to WWII. 
Sunghee Choi from Gangjeong/Jeju island
RIMPAC gives a chance for the South Korean military to continue growing and for the defense industry to continue exporting arms. 

3 warships left from Jeju base, which is strategically located at the southern tip of Korea close to China. These warships included amphibious assault ships, carrying assault vehicles which have destroyed the beaches of Hawai'i. 

South Korea was very aggressive during this year's RIMPAC, sending 9 amphibious assault vehicles — its largest-ever contingent in RIMPAC. 

Jeju's base has increasingly been becoming a US strategic base against China. 

RIMPAC also gives the chance for the ROK-US military alliance to carry out exercises against North Korea.

Before RIMPAC started, South Korea and the US were conducting war drills in the sea of Okinawa including the 3 warships sent to RIMPAC (which was not widely reported in the media)

Through RIMPAC, the South Korean military introduced arms to other countries (e.g. Poland, other NATO countries). 

People in Jeju have been protesting daily, calling to cancel RIMPAC because it destroys ecosystems in Hawai'i and across the Pacific, and increases military tensions in the region. Joining in solidarity with others across the Pacific is the only way forward. 
Can you tell us a story about organizing underway now in your community, or a story about the impact of militarism in your community, that sticks with you?
Ken Kuper from Guahan
Guahan is in a precarious position. As tensions escalate, Guahan is stuck in the middle.

In a crisis, Guahan is one of the first places that China would target to "neutralize." 

African proverb: "When two elephants fight, the grass gets stomped on." Everyone in this region is part of this, and we are all under fire. The work we are doing is to help prevent the spread. 

Daughter was frightened by military presence, talking about bombs at 3 years old. Cannot reassure her that there is no danger.

There is constant insecurity and existential precarity on Guahan. 
Sarah Raymundo from the Philippines 
The alliance between the US and Philippines is the longest standing in Southeast Asia and is a priority of Biden's. This region is central to US-China competition and the new cold war that the US is pursuing to advance its economic interests. 

The fight against RIMPAC comes from a long legacy of organizing against militarism and for human rights. 

In 1991, the world applauded the Filipino people for closing a US military base. 

Anti-war, anti-imperialist, and peace movements are based on the interests of different sectors, especially the peasantry. 

The decision to reject military bases 30 years ago was revived by subsequent agreements with the US — the US has never changed its policy toward the Philippines or the rest of Asia. 

The Philippines has signed agreements with the US regarding Balikatan exercises - thousands of troops coming to train with the Philippines army. 

Lingering impact of military bases on different sectors (workers and farmers especially)

Conversion of bases into free trade zones (special economic zones) → building unions, collective actions (strikes)

US military actions have resulted in grave ecological damage. And such retaliatory measures against the closure of the bases have resulted in sickness and premature death to children and elders residing near the bases. 

Women's movement in Philippines has been raising the issue of red light districts and prostitution, which have been minimized by the closure of the base but still persistent. 

War games scattered throughout different provinces. 

An agreement signed by Obama and Philippines' president in 2014 provided the US military full access to station on facilities of the armed forces of the Philippines. 

In October 2014, US marine Joseph Pemberton killed Jennifer Laude, a trans Filipina woman. President Duterte later pardoned Pemberton. 

The Philippines has a partnership with China as well. China's extraterritorial claim to the West Philippines sea has dire effects for fishermen and the fishing industry. Fishermen's reduced income has additionally caused women in these families to seek migrant work abroad. 

Diminished livelihood and separated family arrangements is a direct result of militarization. US militarism and Chinese expansionism is affecting the fabric of Filipino society.
Kate Alexander | Policy and Campaigns Officer
646.490.2389
pronouns: she/her/hers
---
New music video I put out for the Roe protests, I hope this is helpful as we head into the next stage of this fight.  Activism through art. James Oldenburg 
---
Universal Declaration of Human Rights
The Universal Declaration of Human Rights (UDHR) is a milestone document in the history of human rights. Drafted by representatives with different legal and cultural backgrounds from all regions of the world, the Declaration was proclaimed by the United Nations General Assembly in Paris on 10 December 1948 (General Assembly resolution 217 A) as a common standard of achievements for all peoples and all nations. It sets out, for the first time, fundamental human rights to be universally protected and it has been translated into over 500 languages. The UDHR is widely recognized as having inspired, and paved the way for, the adoption of more than seventy human rights treaties, applied today on a permanent basis at global and regional levels (all containing references to it in their preambles). 
Preamble
Whereas recognition of the inherent dignity and of the equal and inalienable rights of all members of the human family is the foundation of freedom, justice and peace in the world,
Whereas disregard and contempt for human rights have resulted in barbarous acts which have outraged the conscience of mankind, and the advent of a world in which human beings shall enjoy freedom of speech and belief and freedom from fear and want has been proclaimed as the highest aspiration of the common people,
Whereas it is essential, if man is not to be compelled to have recourse, as a last resort, to rebellion against tyranny and oppression, that human rights should be protected by the rule of law,
Whereas it is essential to promote the development of friendly relations between nations,
Whereas the peoples of the United Nations have in the Charter reaffirmed their faith in fundamental human rights, in the dignity and worth of the human person and in the equal rights of men and women and have determined to promote social progress and better standards of life in larger freedom,
Whereas Member States have pledged themselves to achieve, in co-operation with the United Nations, the promotion of universal respect for and observance of human rights and fundamental freedoms,
Whereas a common understanding of these rights and freedoms is of the greatest importance for the full realization of this pledge,
Now, therefore,
The General Assembly,
Proclaims this Universal Declaration of Human Rights as a common standard of achievement for all peoples and all nations, to the end that every individual and every organ of society, keeping this Declaration constantly in mind, shall strive by teaching and education to promote respect for these rights and freedoms and by progressive measures, national and international, to secure their universal and effective recognition and observance, both among the peoples of Member States themselves and among the peoples of territories under their jurisdiction. 
Article 25
Everyone has the right to a standard of living adequate for the health and well-being of herself and of her family, including food, clothing, housing and medical care and necessary social services, and the right to security in the event of unemployment, sickness, disability, widowhood, old age or other lack of livelihood in circumstances beyond his control.
Motherhood and childhood are entitled to special care and assistance. All children, whether born in or out of wedlock, shall enjoy the same social protection.
---
Racine County Women's Rights Summit
Tuesday, June 28
6:30 – 9pm CDT
YOU are invited to attend a special event on June 28th at 6:30 pm. We will be gathering to discuss the recent tragic Roe v. Wade decision and ways in which we, as a community, can respond and voice our concerns/rage!
Please sign up and share this invite with friends or family. Sign up is mandatory as we do have capacity limits with the venue. We have planned an agenda of community leaders/speakers, some forward action opportunities and will welcome your input and stewardship!
---
New music video I put out for the Roe protests, I hope this is helpful as we head into the next stage of this fight.  Activism through art. James Oldenburg 
---
The United Nations Associations of the USA (UNA-USA) Executive Director Rachel Bowen Pittmanreleased the following statement on the Supreme Court's decision to overturn the landmark Roe v. Wade ruling: 
"Today's Supreme Court decision to overturn federal constitutional protections on abortion rights goes against bedrock UNA-USA principles, mainly that a woman's right to bodily autonomy is a fundamental human right. The Supreme Court's ruling has effectively eliminated years of progress in advancing gender equality and will exacerbate inequities in healthcare access for Black women and women of color who are disproportionately affected by abortion bans.
"This ruling is in direct conflict with the Convention on the Elimination of All Forms of Discrimination Against Women (CEDAW), a landmark international agreement adopted in 1979 by the UN General Assembly. The United States joins only five other nations in the world that have not ratified this important treaty affirming the principles of fundamental human rights and equality for girls and women around the world. 
"Through advocacy for U.S. funding and leadership at the UN, we will continue to champion sexual and reproductive health and rights. Our UNA Women Affinity Group will educate and mobilize local communities nationwide to mitigate this decision's impact and collaborate with the Cities for CEDAW initiative, a grassroots effort to pass local and state ordinances and resolutions on CEDAW.
Generations will remember our actions. We will fight for the rights of all women to lead healthy and empowered lives."
About the United Nations Association of the USA (UNA-USA):
The United Nations Association of the USA (UNA-USA) is a grassroots movement of Americans who support the vital work of the United Nations in U.S. communities, colleges, and Congress. For more than 75 years, UNA-USA and its national network of 20,000 members and 200 chapters have promoted strong U.S. leadership at the UN through advocacy campaigns, youth engagement, outreach programs, and public events. Learn more.
---
 

Marielle Ali (she/her)

National Council Chair 

Membership Director  | Southern NY State Division

United Nations Association USA
With Roe Overturned, What Comes Next for Abortion Rights?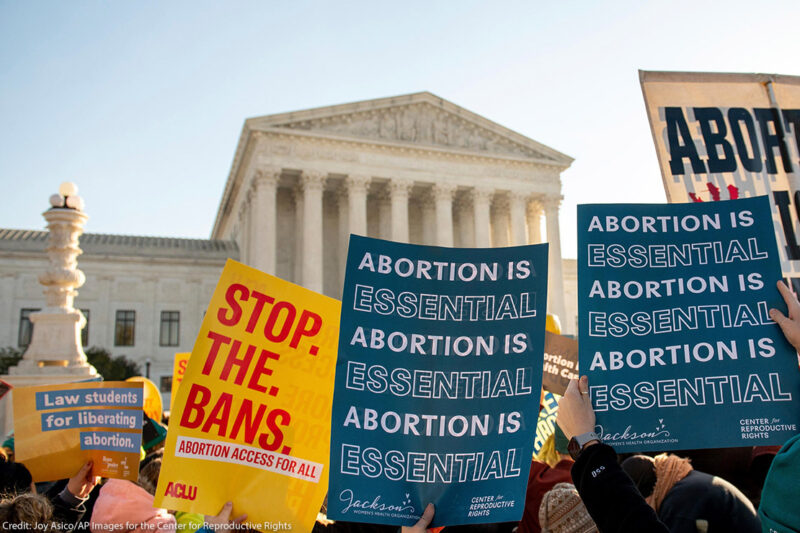 The Supreme Court's ruling today, which overturned Roe v. Wade, is nothing less than a shameful, sweeping, politically-driven decision that will have life-altering, and indeed, life-threatening consequences for women and other people who can become pregnant. The devastation of this moment and how it will erode so many of our fundamental rights cannot be underestimated.
Today's decision revokes the federal constitutional right to abortion, and with it our agency over our lives and futures. As a result of this decision, half the states are expected to ban abortion.
This is an outrageous attack on women's rights and the bodily autonomy of everyone who can become pregnant, and the effects will be immediate and far reaching. Forcing someone to carry a pregnancy and give birth against their will has devastating impacts, derailing their life, education, and career plans, and assigning them to a future they never wanted or envisioned for themselves.
As bad as today is, this is just the beginning. Extremists have made it clear they won't be content until abortion is banned nationwide. And they won't stop with abortion either. The same extremists seeking to control the bodies of pregnant people are coming for our rights to access birth control and gender-affirming health care, to marry who we love, and to vote. But the ACLU has been fighting for our fundamental rights since before Roe v. Wade was decided, and we are not backing down now — or ever. The ACLU and our supporters have been preparing for this moment.
What is the Mississippi abortion ban, and how did we get here?
The state of Mississippi used Dobbs to issue a direct invitation to the Supreme Court to overturn Roe. The case was brought on behalf of the last abortion clinic in Mississippi by the Center for Reproductive Rights, and it challenged a state law banning abortion after 15 weeks, in plain violation of Roe. The state asked the court not just to uphold the 15-week ban, but to reconsider the constitutionality of abortion entirely and to declare that the Constitution does not protect the right to abortion at all. That is precisely what the court ruled today.
What happens when abortion is banned?
Forcing someone to carry a pregnancy against their will has life-altering consequences, including enduring serious health risks from continued pregnancy and childbirth, making it harder to escape poverty, derailing one's education, career, and life plans, and making it more difficult to leave an abusive partner. This decision will also lead to miscarriages being subject to suspicion, investigation, and arrest, and patients and doctors being thrown in jail.
These burdens will disproportionately fall on women of color, those struggling to make ends meet, young people, immigrants, people with disabilities, and LGBTQ+ communities.
Today's ruling will also have deadly consequences, with the harm falling hardest on Black women and other people of color who already face a maternal mortality crisis that is most severe in the same states that are determined to ban abortion. In fact, Black women are three times more likely than white women to die during childbirth or shortly thereafter. If abortion is banned nationwide, pregnancy-related deaths are estimated to increase by 21 percent nationwide, and 33 percent among Black women.
What comes next for abortion rights?
Without the federal right to abortion, about half the states are expected to ban abortion in the near future. Some of these laws will take effect immediately, some will require additional action to put the law into effect, and some states will pass new laws.
This didn't happen overnight. It has been part of a decades-long project to take away a right upon which people have relied for half a century. Anti-abortion politicians have spent decades enacting a patchwork of abortion bans at the state level that pushed abortion out of reach and laid a foundation for the moment we find ourselves in now: when they can ban abortion throughout wide swaths of the country. But we know they will not stop there. Today's decision brings anti-abortion politicians one step closer to their ultimate goal of outlawing abortion nationwide.
How can we channel our anger into action?
Everyone deserves the dignity and power to decide for themselves if and when they have a child. Those who are trying to take away our basic rights are counting on our silence. We cannot afford to stay quiet when our rights and our freedoms are on the line, and we won't.
PeoplePower.org
Take the pledge: Commit to being a defender of abortion rights
This is a moment of crisis, but we are not powerless. Abortion access is literally on the ballot this year, and we must vote like our rights depend on it — because they do.
With the federal constitutional right to abortion gone, state constitutional rights are more important than ever. In Michigan and Vermont, efforts are underway to enshrine the right to reproductive freedom in their state constitutions.
Conversely, proposed state constitutional amendments to take away abortion rights are on the ballot in Kansas this August, and in Kentucky this November. We cannot let those measures succeed.
We can make our voices heard by taking to the streets. Protests and actions are taking place across the country, and you can locate events in your state here. You can join these efforts and sign up for alerts from the ACLU by texting FIGHTBACK to 826-23 for more actions and updates on the crucial work ahead.*
You can also help secure abortion access for those who need it most by donating to abortion funds that help people access critical care, and by donating to the ACLU.
Finally, you can help fight the stigma of abortion by sharing your stories and talking about how abortion access has changed your life. Talk to your friends, family, and neighbors about why abortion access is essential.
It is up to us — the overwhelming majority of Americans who support abortion access — to come together and fight for a world where we have the freedom to control our bodies and futures. We are joining forces with partners and working to mobilize folks in every corner of the country to get involved in the fight for bodily autonomy.
The ACLU will continue to do everything in our power to ensure all people can access the care they need, when they need it. We are fighting for our rights everywhere: in the courts, in Congress and state legislatures, in the streets, and at the ballot box. Politicians don't get the last word. We do.
---
Protect Women's Right to Choose
Sponsored by CCDS Socialist Education Project
Join us for this important discussion. The far right and the rightwing justices on the Supreme Court are attempting to overturn Roe vs. Wade. Make no mistake, this is an attack on everyone. By
using arguments they 
directly threaten
 legal protections for homosexuality, contraception, interracial marriage, and much more.
Recording of the webinar:
Mildred Williamson, PhD, MSW, has spent her career in public service with human rights/social justice as her passion. She has more than 30 years of experience in developing and leading public health safety net programs for vulnerable populations. She recently retired as Executive Director of HIV Services for Cook County Health and continues to serve as Adjunct Assistant Professor the University of Illinois at Chicago School of Public Health (UIC-SPH). She served as HIV/AIDS Section Chief for the Illinois Department of Public Health from 2008-2015 and began her public health career at Cook County (now John H. Stroger) Hospital in 1989 as the first administrator of the Women & Children HIV Program, which today, is part of the Ruth M. Rothstein CORE Center - the largest provider of comprehensive HIV services in the Midwest. Dr. Williamson obtained her Master's and Doctoral degrees in Social Work at the School of Social Service Administration/University of Chicago.
"
Heather Booth is one of the country's leading strategists about progressive issue campaigns and driving issues in elections. She started organizing in the civil rights, anti-Vietnam war and women's movements of the 1960s.

 

She started JANE, an underground abortion service in 1965, before Roe. There is a new HBO documentary about this called The JANES, and there is a new Hollywood film version of the story, Call JANE

.
She was the founding Director and is now President of the Midwest Academy, training social change leaders and organizers. She has been involved in and managed political campaigns and was the Training Director of the Democratic

 

National Committee. In 2000, she was the Director of the NAACP National Voter Fund, which helped to increase African American election turnout. She was the lead consultant, directing the founding of the Campaign for Comprehensive Immigration Reform in 2005.
In 2008, she was the director of the Health Care Campaign for the AFL-CIO. In 2009, she directed the campaign passing President Obama's first budget. In 2010 she was the founding director of Americans for Financial Reform,

 

fighting to regulate the financial industry. She was the national coordinator for the coalition around marriage equality and the 2013 Supreme Court decision. She was strategic advisor to the Alliance for Citizenship (the largest coalition of the immigration

 

reform campaign). She was the field director for the 2017 campaign to stop the tax giveaways to millionaires and billionaires She directed Progressive and Seniors Outreach for the Biden/Harris campaign. She has been a consultant on many other issues and with many other organizations. She is a member of the consulting firm Democracy Partners.
Marilyn Katz--

Marilyn Katz is a long-time women's rights advocate going back to the new left of the 1960s. She was part of SDS and the New American Movement. As a communications specialist, she played a major role in the campaigns of Mayor Harold Washington and Senator Carol Mosley Braum Carol Mosely Braun. She was a founder of Chicagoans Against War and Injustice.

The screening of the HBO documentary The Janes

Here are social media links for the film (which will be broadly publicly available June 8)

:
---
Women, Peace & Disarmament:
Perspectives and Actions from the Global South
International Womens Day for Peace and Disarmament Commemoration event
Online, May 24. 11:00 - 12:15 Eastern Time USA
Most of the Global South has already prohibited nuclear weapons through regional nuclear-weapon-free zones. As the global north bristles with nuclear weapons, and nuclear-armed states threaten their use (e.g. in the Ukraine conflict), voices from the South for a more secure world without nuclear weapons need to be heard and considered.